Sharon: Palestinians have unique chance
(Agencies)
Updated: 2004-12-17 08:58
Israeli Prime Minister Ariel Sharon said on Thursday he saw a unique chance for peace with new Palestinian leaders and was ready to coordinate his Gaza withdrawal plan as a step to a broader deal.
The message marked a change of direction after Yasser Arafat's death last month raised hopes of resumed negotiations.
But the frontrunner to succeed him in Jan. 9 presidential elections, Mahmoud Abbas, said Palestinians could never discuss anything less than a state in all of Gaza and the West Bank.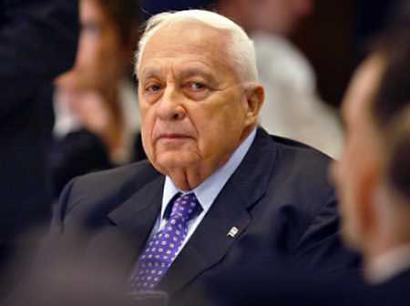 Israeli Prime Minister Ariel Sharon attends an annual academic conference in Herzliya, north of Tel Aviv December 16, 2004. Palestinian presidential frontrunner Mahmoud Abbas rejected an offer by Sharon to coordinate Israel's planned withdrawal from the Gaza Strip next year. [Reuters]

Sharon's "Disengagement Plan" was drawn up a year ago as a way to break from conflict by withdrawing Jewish settlers from some land captured in the 1967 Middle East war.

Palestinians fear it as a ruse to give up Gaza but deny them a viable state in the far larger West Bank while sealing out Palestinian refugees from ancestral homes now inside Israel.

"Israel will be prepared to coordinate various elements relating to our Disengagement Plan with the future Palestinian government -- a government which is ready and able to take responsibility for the areas that we leave," Sharon said.

"If this happens we will have a genuine chance to reach an agreement, and in the future, perhaps also genuine peace ...

"We stand before a unique window of opportunity. Who knows when we will have this opportunity in the future. We must not miss this opportunity to reach an agreement," Sharon said in a speech to a policy conference.

Abbas, a U.S.-favored moderate, is near certain to win and is widely expected to try to revive negotiations that collapsed just before an uprising broke out four years ago. This week, Abbas urged Palestinians to abandon armed struggle.

But he responded coolly to Sharon's proposal, saying Israeli withdrawals should only be part of a U.S.-led peace "road map" which Palestinians hope will win them all the West Bank and Gaza.

In a key concession to early drafts of the initiative, Sharon said Israel could leave the buffer zone separating Gaza from Egypt if Cairo was able to help ensure security.

But in words likely to worry Palestinians, he emphasized President Bush's stated support for the idea that Israel would not have to give up all the Jewish settlements in the West Bank under any final peace agreement.

"The terms mentioned by Sharon were not new. They prejudge the final-status negotiations and are unacceptable," Abbas told Reuters. "The Palestinians will coordinate with Israel on the Gaza withdrawal only if it is part of the road map."

Sharon made the announcement at the Herzliya policy conference where he last year unveiled the pullout plan to shock from friends and foes alike.

Sharon also reiterated Israel's insistence that new Palestinian leaders bring militants under control.

Despite the Palestinian concerns, Western countries see the plan to abandon all the Gaza Strip settlements and four of 120 in the West Bank next year as a possible first step toward a peace deal.

Sharon has forced the plan through despite domestic opposition from former allies in the settler movement who accuse him of betrayal for preparing to give up land captured in 1967 and say it would "reward terror."

In another sign of Israel's possible willingness for talks, a senior official said it was ready to support a conference on the Middle East in London that British Prime Minister Tony Blair would like to hold early next year.

New optimism has not stopped violence. A Palestinian gunman was killed near a Jewish settlement in the Gaza Strip overnight.

Seven soldiers were hurt in a mortar attack by militants on an outpost in the territory. Hours later, an Israeli helicopter destroyed a workshop in a missile strike on Rafah refugee camp in south Gaza. The army said the workshop was a munitions store.




Today's Top News
Top World News

Microsoft software to remove spyware programs




First film rating scheme in the making




Courts: Economic cases get priority




Japan urged to repeal Lee visit




Foreign airlines face safety checks for entry




Saddam holds first meeting with lawyer