Blooming bamboo endangers pandas
By Guo Nei (China Daily)
Updated: 2004-12-17 08:40
Bamboo is booming wildly in Southwest China, raising fears that native giant pandas will lose their only source of food.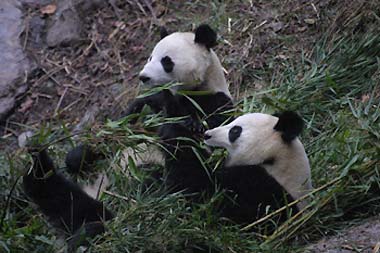 Pandas eat bamboo leaves, their major source of food, at the Wuolong Natural Reserve, known as home of giant pandas which opened in 1963 in China's Southwest Sichuan Province. Wild arrow bamboo is blooming in Southwest China, reducing the scope of bamboo and endangering the habitat of pandas. [newsphoto]


After several decades of growth, arrow bamboos bloom and then die. Since they provide the only nourishment for pandas, experts say their lives may be affected.

However, measures are being taken to minimize the impact, experts say.

Forestry authorities in Southwest China's Sichuan Province have launched aid mechanisms to help pandas suffering from hunger or disease.To date, there have been no reports about pandas becoming sick due to a lack of food.

According to the Beijing-based China News Service, all the arrow bamboo trees at an altitude of 2,700 metres or higher in the Pianshan Nature Reserve in the city of Mianyang, Sichuan Province, have bloomed.

Those between 2,700 metres and 2,500 metres have shown signs flowering.

After the arrow bamboo blossoms, it withers and dies. The arrow bamboo flowers every 60 years. It takes at least 10 years for new bamboo to become edible for pandas.

Huang Lishuang, an official at the nature reserve, said that there are 19 pandas in the reserve dependent on arrow bamboo.

Local forestry authorities are strengthening their efforts to protect the great panda, the report said.

Farmers are being told to immediately report any panda sightings, while patrolmen are being sent to monitor the brim of the regions where bamboo flowers.

"The blooming of arrow bamboo will not bring about too much impact on the survival of the giant panda, let alone leading to its extinction," Zhang Anju, a panda expert was quoted by China News Service as saying.

Yu Jianqiu, an expert with a research base for panda reproduction in Chengdu, capital of Sichuan, agrees.

Yu said pandas usually eat different kinds of bamboo, while only the arrow bamboo in that specific region flowers.

In that case, pandas still can find bamboos to eat, he was quoted as saying.

But Zhang Hemin, director of the panda research centre in Sichuan's Wuolong Natural Reserve -- known as home of giant pandas -- said pandas are often used to one kind of bamboos and it is difficult for them to find a substitute.




| | |
| --- | --- |
| | |
| China braces for Miss Plastic Surgery | |

| | |
| --- | --- |
| | |
| The premiere of "Kung Fu Hustle" | |

| | |
| --- | --- |
| | |
| Posh in Chinese charity ad | |
Today's Top News
Top Life News

Japan urged to repeal visa for Lee Teng-hui




EU to debate China arms embargo at summit




First film rating scheme in the making




Courts: Economic cases get priority




Foreign airlines face safety checks for entry




Saddam holds first meeting with lawyer