Japan urged to repeal visa for Lee Teng-hui
By Hu Xiao (China Daily)
Updated: 2004-12-17 00:25
China strongly demanded Japan immediately repeal its decision to issue a visa to former Taiwan leader Lee Teng-hui, warning that if Tokyo allows the visit it will harm bilateral relations.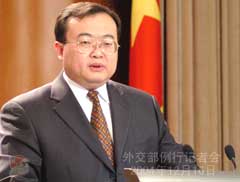 Chinese Foreign Ministry Spokesman Liu Jianchao speaks at the regular press briefing in Beijing December 16, 2004, urging Japan to repeal its decision to grant visa to former Taiwan leader Lee Teng-hui. [fmprc.gov.cn]

"Lee Teng-hui is a symbol of aggressive forces of 'Taiwan independence'," said Foreign Ministry spokesman Liu Jianchao yesterday at a regular media briefing.

Japan said yesterday it would grant a visa to Lee as a private citizen for a "sightseeing trip."

Liu, however, said the visit was by no means "private."

The purpose of visiting Japan is to seek backing for "Taiwan independence" and create external conditions for speeding up his independence activities, said Liu.

"Japan's agreeing to allow him (Lee's) visit is itself a challenge to China's unification efforts and is a type of support for and indulgence of Taiwan's 'independence forces'," Liu said.

Lee, leader of the Taiwan authority from 1988 to 2000, last visited Japan in 2001. Then Japan's Foreign Minister Makiko Tanaka openly admitted that Lee's visit was not merely a personal or humanitarian issue, adding that the fact Taiwan's so-called "foreign ministry" negotiated with the Japanese Government on the issue revealed its political nature.

Lee always tried to raise Taiwan's "international profile" during his 12 years as the leader of the island, and went further and further on the way towards "Taiwan independence."

In 1995, he visited the United States on the pretext of an academic tour, which led to a serious retrogression in Sino-US relations and agitated the tense situation across the Straits.

In 1999, before he stepped down, he redefined the island's ties with the mainland as special "state-to-state" relations.

Asia-based observers believed the Japanese Government's decision to give Lee a visa would encourage those "Taiwan independence" elements.

The Japanese Government claims Lee has promised he will not engage in political activities during his stay in Japan, but Lee's success in applying to visit Japan itself is widely seen as a political action.

Comfort women Commenting on the Tokyo High Court's rejection to a demand for damages from four former Chinese "comfort women" in Japanese army during the World War II, Liu said that Japan should "properly" handle the cases left over from history, including the issue of comfort women, "in a responsible manner."

Liu said the forced conscription of "comfort women" is one of the serious and grave crimes committed by Japanese militarists during World War II against victimized countries, including China.

On Wednesday, the high court said that government was not responsible for compensation for any acts committed by state authorities under the previous Japanese constitution which expired after the war and rejected demands for more than 22 million yen (US$211,000) from each of the women.

According to historians, at least 200,000 Chinese and other Asian women were forced to serve as "comfort women" or sexual slaves, by Japanese forces during the war.




Today's Top News
Top China News

Japanese textbook distorts history, stirs fury




Shops called to boycott Japanese goods




ADB: China's economy expected to grow 8.5%




400,000 to relocate for water project




Possible US textile safeguards draw criticism




Shrine visit angers both sides of Straits