Blast in Kandahar, kidnap victim killed in Afghanistan
(Agencies)
Updated: 2004-12-16 09:27
A blast in the Afghan city of Kandahar wounded at least four government soldiers on Wednesday, a day after security forces said they caught Taliban leader Mullah Mohammad Omar's security chief.
Elsewhere, the body of a kidnapped Turkish construction engineer was found in eastern Afghanistan, an Interior Ministry official said. He had been abducted by a militant gang on Tuesday on the road between the city of Jalalabad and Kunar province.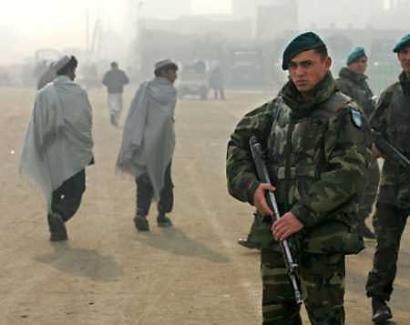 Turkish soldiers from the NATO-led International Security Assistance Force patrol as Afghans walk past in Kabul December 15, 2004. A Turkish engineer abducted by a militant gang in eastern Afghanistan was found dead on Wednesday, a witness who saw the body being carried down from a mountainside said. [Reuters]

Up to five people were wounded in the southwest in clashes between a district commander's militia and government forces, the governor of Helmand province, Shair Mohammad Akhundzada, told Reuters.

Eight people were detained after the clash between troops supposedly on the same side.

Police were not sure whether the blast in Kandahar was caused by a bomb or a rocket striking an ammunition store at a pro-government militia base near the city center.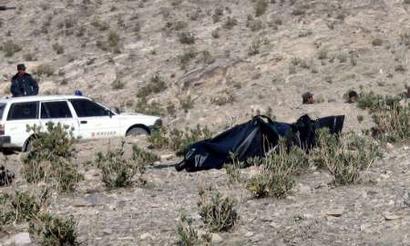 The body of a Turkish engineer (wrapped in a black sheet) lies on the ground in Chawki district of Kunar province, December 15, 2004. A Turkish engineer abducted by a militant gang in eastern Afghanistan was found dead on Wednesday. [Reuters]

"This was carried out by an enemy of Afghanistan and it might have been a time bomb," police chief in the southern city, Khan Mohammad Khan, told Reuters.

His deputy later said the blast may have been caused by a rocket. Reporters were stopped from approaching the scene.

Security forces said on Tuesday they had captured Toor Mullah Naqibullah Khan, who they identified as Taliban leader Omar's household security chief and a dangerous killer, on the outskirts of Kandahar.

He was among 27 suspected militants arrested in Afghanistan since Saturday. About half of them were detained in Kandahar, the Taliban's former power base.

Seven militants were killed by U.S. artillery fire on Monday night in the southern province of Khost, said U.S. military spokesman Major Mark McCann.

Kandahar authorities said Naqibullah Khan was still heading Omar's security, leading to speculation he might have information about Omar's whereabouts.

But a U.S. official in Washington, who said he could not confirm Naqibullah Khan's capture, said he was a former Taliban security official and not a "significant figure" now.

Several reporters got phone calls from people claiming to speak for the Taliban denying knowledge of Naqibullah Khan, and from men purporting to be him, denying he had been captured.

Kandahar's police chief Khan dismissed those claims.

Official sources said they had a videotape of Naqibullah Khan asking for mercy which could be used to reinforce a call from President Hamid Karzai for Taliban fighters to lay down arms.

Karzai was sworn in as Afghanistan's first democratically elected president last week and wants to wipe the slate clean with all but the most hardened Taliban loyalists.

The kidnapping and killing of the Turkish engineer, identified by the Interior Ministry as Mohammad Ayub, in the east did not appear to be linked directly to the Taliban.

A small militant group operating in forested mountains close to the border with Pakistan was suspected of being behind the abduction and murder.

The man was killed on Wednesday morning as rescuers closed in on the kidnappers' hideout, the Interior Ministry said. His Afghan driver and interpreter were released.

Karzai issued a statement condemning the killing.

Police said the militant group suspected of kidnapping the man had about 20 members and was led by a commander who had links in the past with the Hezb-i-Islami group of renegade former Prime Minister Gulbuddin Hekmatyar, who is now a Taliban ally.

Ayub is the second Turk to be killed in a kidnapping in Afghanistan the past year. Two others were released. All of the victims were working on road projects.




Today's Top News
Top World News

China to build high speed railways next year




New court rules to better guard IPR




Chen's stance a "threat" to peace




Bus hijackers surrender, 18-hour siege over




Ox or donkey? Tiny animal stirs art debate




Pakistan, China sign 7 deals on projects