Abortion of 14-week fetus banned
(Xinhua)
Updated: 2004-12-16 08:31
Starting January 1, Guiyang, capital of southwestern Guizhou Province, will impose China's first ban on abortion of a fetus more than 14 weeks old.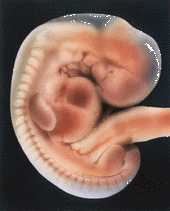 China issues it's first ban on abortion of a fetus more than 14 weeks old in Guizhou Province. [newsphoto]

The move aims to control the city's consistently lopsided male-female ratio of newborns, according to a top Guiyang official.

Medical facilities or doctors violating the ban will face a fine up to 30,000 yuan (US$3,600) or have their medical operation license suspended, according to a regulation the city announced recently.

Pharmaceutical firms will also be banned from selling abortion medications to hospitals or doctors that are not allowed to conduct abortion.

Experts say the gender of a fetus usually can be judged using modern medical devices about 14 weeks into pregnancy as a fetus begins to grow gender-defining organs when it is 12 weeks old.

However, city officials will allow exceptional cases.

Abortion for women beyond 14 weeks into pregnancy is legal only when the fetus is believed to develop a hereditary disease or has serious physical defects, or that its serious disease, if any, endangers the life or health of the mother, the rule says.

In this case, a mother may apply to the county-level family planning administration for a certificate to end the life of the fetus. Besides the certificate, the mother must also show her ID card to prevent fraud, according to the rule.

As elsewhere in China, the regulation endorsed by the Guiyang government also prohibits local hospitals and self-employed doctors from conducting fetus gender assessment.

Authorities will confiscate the illegal income from hospitals or self-employed doctors that have illegally conducted fetus gender assessment or abortion.

In addition, fines will be imposed, depending on the sum of the illegal income. Violators will be fined a sum three to six times the illegal income that tops 5,000 yuan.

For illegal income of less than 5,000 yuan, violators will be fined between 5,000-30,000 yuan, according to the regulation.




| | |
| --- | --- |
| | |
| Alien beauty strips for animal rights in China | |

| | |
| --- | --- |
| | |
| Hollywood actress Liv Tyler becomes a mum | |

| | |
| --- | --- |
| | |
| Zhang Ziyi sure to show up at Oscar | |
Today's Top News
Top Life News

Folks, are you happy with your lot?




China to build high speed railways next year




New court rules to better guard IPR




754 officials punished for fund misuse




Chen's stance a "threat" to peace




Pakistan, China sign 7 deals on projects