Costly National Theater faces financial woes
(Xinhua)
Updated: 2004-12-16 01:15
The National Grand Theater will open by the end of 2005 in Beijing even though the massive project is currently strapped by financial difficulties.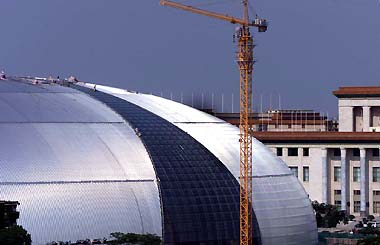 A file photo taken in July 2004 shows the shining shell of the theater nearly completed. [newsphoto]

"The budget is set at 2.688 billion yuan (325 million US dollars) but the theater needs at least 3 billion yuan if it is to be completed as scheduled," said Wan Siquan, an official with the project's sponsor, the Project Owner's Committee, as quoted the Beijing News Wednesday.

He said currently the project is short about 200 million yuan ( some 24 million US dollars).

The construction of the theater, designed by French architect Paul Andreu, began in December 2001 after four years of deliberation among the country's policy makers.

Located in the heart of Beijing -- near the spacious Tiananmen Square, the magnificent Great Hall of the People and the imposing Forbidden City -- the theater is a modern-style building standing out from its surroundings.

Shaped like a tear drop, the silvery theater -- made of glass and titanium -- once sparked controversy on whether such an modern design was appropriate for the center of Beijing. The project met numerous obstacles before finally gaining approval -- now it faces budget troubles.

"The 200 million shortage is reasonable as we have already taken into account the cost-saving measures that will be taken," said Wang Zhengming, a major official of Project Owner's Committee.

The shortage was caused by rising cost of steel, cement, sands and other construction materials and worsened, Wang noted. The situation was made worse by an unusually strong Euro, which made the purchase of major musical instruments for the theater extremely costly.

But Wang denied the rumors that the project will be stalled for lack of funds. He said money shortages will not have a " significant impact" on the ongoing construction.

The theater, when completed, will consist of an opera house, a concert hall, a drama house, an art exchange center, audio-visual products shops and other facilities.

Altogether 6,750 tons of steel have been used in the construction. Ninety-four percent of machinery and 71 percent electric engineering for platform control of the opera house have been completed. About 95 percent of the machinery for drama house have been finished.

Despite that there is at least one year to go before completion, art director of the theater said he had received 21 proposals for the theater's first show, including from the Royal Opera of England. But who will perform at the debut has yet to be decided.

In August, the other large-scale project in Beijing, the building of National Stadium, was suspended because of cost and safety concerns. Redesigning the plan cut costs from 3.9 billion yuan (469.9 million dollars) to about 2.3 billion yuan, by forgoing an expensive retractable roof and three huge television screens.




Today's Top News
Top China News

Taiwan separatist actions prove unpopular




Target jobless rate to see first drop




Party school raises AIDS awareness




Mass entries vie for 2008 Olympic mascot




Fed raises US interest rate to 2.25%




N.Korea: Any sanctions would mean war