Greek bus hijackers want $1 million and plane
(Agencies)
Updated: 2004-12-15 21:16
ATHENS - Two foreign gunmen, who hijacked a Greek bus with 26 passengers on Wednesday, have demanded a $1 million ransom and a plane out of the country.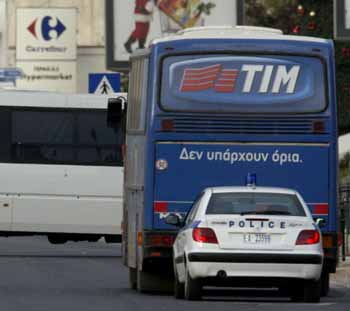 A police car is seen behind a hijacked bus on a street some 30 kilometres north of Athens December 15, 2004. Greek police forces surrounded the bus after two armed men hijacked it early Wednesday morning with 26 passengers on board on its way from northern Athens suburbs to the Greek capital. [Reuters]

Albanian and Russian diplomats were called in by police to try to determine the nationality of the gunmen, who seized the public bus in an Athens suburb early in the morning.

Some Greek media quoted the Albanian ambassador as saying the hijackers "may be Albanian," but there was no confirmation.

Hundreds of thousands of Albanians live in Greece, many came from the neighboring country to help with construction work for last August's Athens Olympics.

About five hours after the 6:00 a.m. hijack, five hostages -- three women and two men -- were freed by the gunmen. Several hours later, two more hostages, a man and a woman, were released leaving 19 hostages aboard.

As the standoff gripped the nation, Prime Minister Costas Karamanlis postponed his departure for a European Union summit in Brussels by one day until Thursday. EU leaders will discuss starting entry talks for Greece's old foe Turkey. "The figure of $1 million (ransom) has been mentioned in negotiations with the hijackers but they have given no other details regarding where they want to go to," a senior police official told Reuters.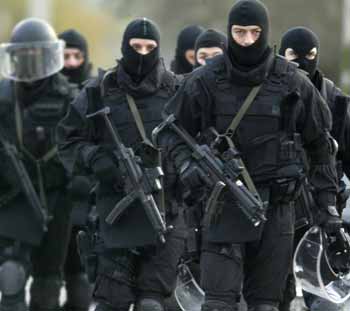 Greek police elite forces walk towards a hijacked bus on a street some 30 kilometres north of Athens December 15, 2004. Two gunmen who hijacked a Greek bus carrying 26 passengers on Wednesday want to go to Athens airport to leave the country, the head of the bus company said. [Reuters]

Stella Matara, a hostage still on the bus, told state-run television in a mobile phone call that the hijackers planned to release all women prisoners once a driver joined the vehicle.

The original driver, a ticket collector and a woman passenger managed to escape from the bus in the first seconds of the hijack when shots were fired during the takeover.

"They want a police bus to leave from in front of our bus, as well as a driver to take them to the airport," Matara said.

"As soon as the driver comes, they will release all women. At the airport, they want a plane to take them to Russia, and then they will release the rest of the hostages."


The bus was seized along a highway from the Athens suburb of Marathon, used during the Olympic race of the same name this summer, police said.


The seizure of the bus was the first such incident since a spate of bus hijackings in Greece in 1999-2000.


NEGOTIATORS ON SCENE


The first of the five hostages freed, a grey-haired man who looked to be in his 50s, stepped out of the bus with his hands raised and walked to waiting police.


"My Dad has a heart condition," Vassilis Bratsiakos said. "I am just happy he is well and far away from the bus."


Nikos Koutsogiorgos, head of the company that owns the bus, told reporters he had spoken by mobile phone to one of the bus passengers who had relayed the gunmen's demands.


Hundreds of police officers, snipers in camouflage attire and special forces took up positions around the vehicle. One police car, its lights flashing, had parked behind the bus.

"I don't care what they are or who they are. I want them to release my wife," said an elderly man who was among dozens of relatives of hostages who rushed to the scene.

"She told me she is fine and things are quiet on the bus but she sounded terrified."

There have been no reports of injuries, but live television showed one gunman approaching the front of the bus and firing off two warning shots.

The curtains in the bus windows were closed, blocking views inside, and a police helicopter hovered above. Television pictures had earlier shown one man carrying a rifle and standing inside the bus near the front seats.

This is the first such incident since a November 2000 hijack of a bus carrying 35 Japanese tourists who were taken hostage by a man who surrendered to a TV talk show host after a 9 hour standoff. Previous hijackings, some involving Albanians, occurred in 1999.




Today's Top News
Top World News

Taiwan separatist actions prove unpopular




Target jobless rate to see first drop




Party school raises AIDS awareness




Mass entries vie for 2008 Olympic mascot




Fed raises US interest rate to 2.25%




N.Korea: Any sanctions would mean war