Taiwan separatist actions prove unpopular
(Xinhua)
Updated: 2004-12-15 15:39
The victory of Taiwan's three opposition parties in Taiwan's legislature election has proved that the recent provocative "Taiwan independence" separatist activities cannot win popular support, Li Weiyi, spokesman for the Taiwan Affairs Office under the State Council, said in Beijing Wednesday.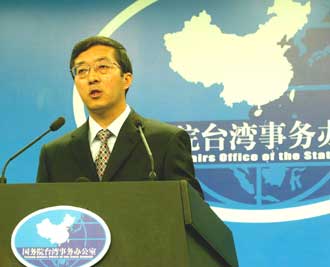 Li Weiyi, spokesman of the Taiwan Affairs Office, speaks at a press conference in Beijing December 15, 2004. He said Chen Shui-bian's push for independence would add tensions to the cross-Strait relations. [newsphoto]
Li made the remarks at a regular press conference to respond to the question of a journalist from Taiwan on the victory of Taiwan's three opposition parties which form the "pan-blue" alliance.
Li said the Chinese government's policy toward Taiwan is consistent and clear, namely the basic principle of peaceful reunification and "one country, two systems," and the eight-point proposal on promoting the development of cross-Straits relations and the motherland's peaceful reunification.
"We will strive to resolve the Taiwan issue peacefully with the greatest sincerity and utmost efforts," he said. "But we absolutely cannot tolerate 'Taiwan independence,' and absolutely cannot allow anyone or any force to separate Taiwan from China by any means."
"The Chinese government and people have the determination, confidence and capability to firmly safeguard national sovereignty and territorial integrity," Li said.
On the development of cross-Straits relations after the election, Li said it depends on the stance adopted by the Taiwan authorities.
As long as the Taiwan authorities return to the one-China principle and abandon the remarks and actions concerning "Taiwan Independence," there will be a bright prospect for the peaceful and stale development of cross-Straits relationship, he said.
On whether the Chinese mainland will invite figures of the "pan-blue" alliance for a visit, Li said "it is our consistent stance that we welcome any figure or organization from Taiwan to come to the mainland and fully exchange views on developing cross-Straits relations and promoting peaceful reunification of the motherland."
Today's Top News
Top China News

Taiwan separatist actions prove unpopular




Target jobless rate to see first drop




Party school raises AIDS awareness




Mass entries vie for 2008 Olympic mascot




Fed raises US interest rate to 2.25%




N.Korea: Any sanctions would mean war