N.Korea: Any sanctions would mean war
(Agencies)
Updated: 2004-12-15 15:10
North Korea warned it would regard any sanctions imposed on it by Japan a declaration of war that it would meet with an "effective physical" response.
North Korea would also reconsider taking part in six-nation talks aimed at ending the nuclear issue if a "provocative campaign" under way in Japan against the country continued, a foreign ministry spokesman said.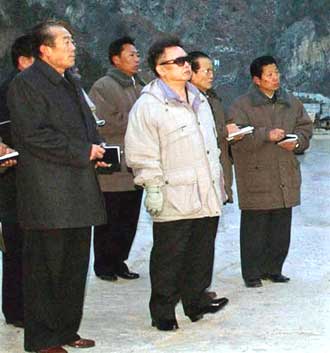 North Korean leader Kim Jong-il (C) inspects power stations under construction in North Korea in this picture released in Tokyo December 15, 2004. North Korea warned Japan on Wednesday that it would treat economic sanctions as a "declaration of war" and threatened to try to exclude Tokyo from six-party talks on Pyongyang's nuclear arms programmes. [Reuters]

"If sanctions are applied against the DPRK (North Korea) ... , we will regard it as a declaration of war against our country and promptly react to the action by an effective physical method," the unidentified spokesman said.

"Then the ultra-right forces of Japan will be held entirely responsible for the catastrophic impact it will have on the DPRK-Japan relations and the regional situation," he said in a statement carried by the official KCNA news agency.

"We will seriously reconsider the issue of taking part in the six-party talks together with Japan as long as such premeditated and provocative campaign of the ultra-right forces against the DPRK goes on," he said.

There are growing calls in Japan for the government to impose economic sanctions on North Korea after it was found to have given false evidence to prove the deaths of two among several Japanese it kidnapped during the Cold War.

One of those kidnapped to train spies in Japanese language and culture was Megumi Yokota, who was spirited away in 1977 as a 13-year-old schoolgirl and has been at the centre of national sympathy.

Tokyo announced last week that DNA tests showed charred remains handed to a Japanese delegation last month did not, as Pyongyang claimed, belong to Yokota.

The finding reignited anger in Japan against North Korea and Tokyo froze shipments of food aid to the destitute country.

The foreign ministry spokesman said North Korea suspected the test results were "cooked up" to serve a political purpose.

The remains had been handed to Japanese authorities by Yokota's husband and it was "unimaginable" he would give them the ashes of anyone else, he said.

Instead elements in Japan were trying to revive a long-standing row over the abductions "because they needed a subterfuge to justify Japan's militarisation, hold in check any improvement in the bilateral relations and step up their political and military interference in regional issues," he said.

He accused the United States of supporting this because it wanted to provoke a war on the Korean Peninsula.

The spokesman said North Korea was investigating the whereabouts of Japanese whom it abducted during the Cold War and were now missing but the "towering national hatred for Japan" after its war-time abduction, massacre and rape of thousands of Koreans made this difficult.

North Korea has returned five kidnap victims to Japan after admitting in 2002 to the abductions, a compromise which led to an aid package and talks on normalising relations.

But the families of others whom Pyongyang claims are dead believe they are alive and being kept under wraps because they may know secrets about the North.

A Japanese official said Tuesday the United States had warned Japan to be cautious about imposing sanctions on North Korea because North Korea could "outmanoeuvre" such a move.

The talks aimed at persuading North Korea to halt its nuclear weapons drive have stalled after three rounds since Pyongyang boycotted a fourth session planned for September.

Besides Japan and North Korea, the negotiations involve South Korea, China, Russia and the United States.




Today's Top News
Top World News

Target jobless rate to see first drop after years




Party school raises AIDS awareness




Mass entries vie for 2008 Olympic mascot




Taiwan separatist actions prove unpopular




Fed raises US interest rate to 2.25%




N.Korea: Any sanctions would mean war