Charity game features Becks, Schumi, Sun Xiang
(Agencies)
Updated: 2004-12-15 14:31
Santiago Bernabeu Stadium provided a safe setting for 65,203 spectators who attended the United Nations' fund-raising "Match Against Poverty" on Tuesday, two days after a bomb scare forced an evacuation.
Zinedine Zidane's team drew Real Madrid teammate Ronaldo's 4-4 in a gently paced game organized by the United Nations Development program, and for which proceeds went to anti-poverty projects in developing countries. Both team captains are goodwill ambassadors for the agency.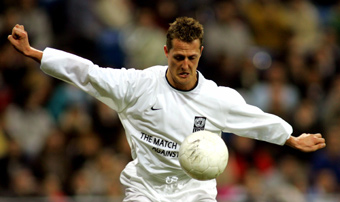 Formula One World Champion German Michael Schumacher controls the ball during a United Nations Development Program charity soccer match between UN goodwill ambassadors Braziilian star Ronaldo and friends team and French star Zinedine Zidane and friends team at the Santiago Bernabeu stadium in Madrid December 14, 2004. [Reuters]


Deportivo La Coruna striker Diego Tristan scored twice while Spain and Real Madrid captain Raul Gonzalez and Switzerland's Hakan Yakin also netted for Zidane's team.

Luis Figo, rally driver Carlos Sainz - with a comic penalty taken three times - Argentina's Juan Pablo Sorin and Portugal's Ricardo Costa all replied for Ronaldo's side.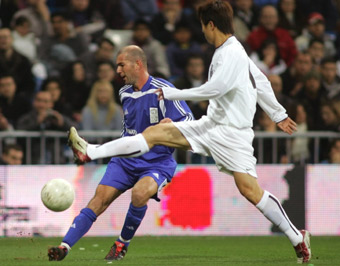 French star Zinedine Zidane (L) kicks the ball past Chinese star Sun Xiang during a United Nations Development Program charity soccer match at the Santiago Bernabeu stadium in Madrid December 14, 2004. [Reuters]


On Sunday, 70,000 spectators were forced to abandon the stadium in the closing stages of Madrid's Spanish league match with Real Sociedad after a bomb threat was made through the Basque newspaper Gara, which the armed separatist group ETA often uses to relay its warnings.

The scare prompted initial suggestions that Tuesday's game should be canceled, although it was green lit on Monday, with Aziyade Poltier-Mutal of the U.N. Development Program saying that no extra security would be in place.

Tickets for the charity match were free although spectators were asked to make a donation to the United Nations program, which aims to halve world poverty by 2015.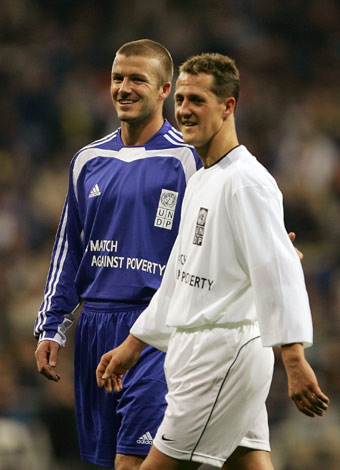 Formula One Champion Michael Schumacher (L) and England star David Beckham smile during a United Nations Development Programme charity soccer match at the Santiago Bernabeu stadium in Madrid, December 14, 2004. Real Madrid hosted an all-star "game against Poverty" on Tuesday despite their Primera Liga match on Sunday being abandoned because of a bomb scare. [Reuters]


The game featured a strong representation of Real Madrid players, including David Beckham and the club's sports director Emilio Butragueno, a former star striker for the team. Other participants included the Czech Republic's Jan Koller and Netherlands' Edgar Davids.

In addition, Formula One's Michael Schumacher played and swapped teams at halftime, while teenage Spanish Davis Cup star Rafael Nadal also donned boots in the second half. Several retired players such as Argentina's Fernando Redondo, Serbia-Montenegro's Predrag Mijatovic, and Croatia's Davor Suker also appeared.

Ronaldo's team was coached by Luiz Felipe Scolari, Mario Zagallo and Carlos Alberto Parreira, all of whom have guided Brazil to World Cup triumphs.

Zidane's side was under Italy coach Marcello Lippi and Frenchmen Didier Deschamps and Luis Fernandez.

Ronaldo and Zidane also led teams in the first "Match against Poverty" in Basle, Switzerland a year ago, and generated over a million Swiss francs (US$866,000).




Today's Top News
Top Sports News

Target jobless rate to see first drop after years




Party school raises AIDS awareness




Mass entries vie for 2008 Olympic mascot




Vanuatu's one-China policy praised




Iraq war crimes trials to begin next week




Fed raises US interest rate to 2.25%