Faina Chiang dies at 88 in Taipei
(Agencies)
Updated: 2004-12-15 14:12
Faina Chiang, the shy Russian-born wife of former Taiwanese leader Chiang Ching-kuo, died on Wednesday at age 88, local media reported.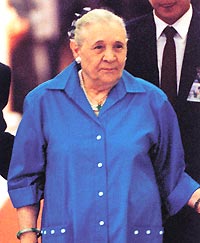 Faina Chiang. [sina.com.cn]

Faina Chiang, who was suffering from asthma, died at the Veterans' General Hospital in Taipei, the government-funded Central News Agency reported. Cable TV stations showed political leaders going to the hospital to pay their respects.

The widow _ also known by her Chinese name Chiang Fang-liang _ was seriously ill for years and used a wheelchair during her rare public appearances.

She met her husband while he was in the Soviet Union in the 1930s. When she was 22, she joined her husband as he returned to China, which was ruled by his father, Generalissimo Chiang Kai-shek, and the Nationalist Party.

A simple woman with a technical school education, Faina Chiang had to adjust to joining one of China's most powerful families. Her mother-in-law was the well-educated, glamorous Soong Mei-ling, one of the world's most famous women at the time.

Unlike her mother-in-law, Faina Chiang avoided the spotlight and was known to be this island's most low-key "first lady."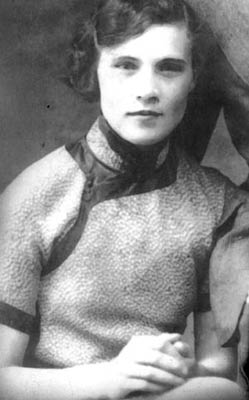 Faina Chiang. [sina.com.cn]

She fled to Taiwan when the the Nationalists were defeated in a civil war.

Her husband became "president" in 1978 and ended 38 years of martial law just months before he died in 1988. He also oversaw the island's spectacular economic development in the 1980s.

The couple had three sons and one daughter. The three sons all died, while the daughter, Hsiao-chang, lives in the United States with her family.

Taiwanese media reported Faina Chiang was 90 because according to the local age-counting system, a person is already 1 year old at birth and becomes 2 after the next Chinese Lunar New Year.




Today's Top News
Top China News

PLA troops active in tsunami relief




Al-Zarqawi reportedly arrested in Iraq




US$3 million private aid ready for victims




Chinese avoid weddings in Year of Rooster




Shares greet 2005 by ending at 5-year nadir




Baghdad governor slain; 5 US troops die