Gunmen seize bus in Athens suburbs -- police
(Agencies)
Updated: 2004-12-15 13:23
Greek police surrounded a bus carrying 26 passengers that was seized by two armed hijackers along a highway from an Athens suburb on Wednesday, police said.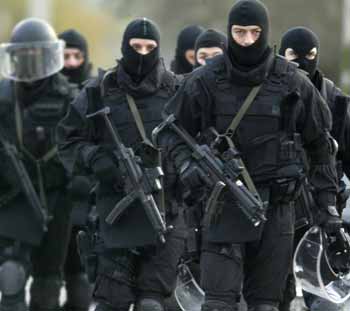 Greek police elite forces walk towards a hijacked bus on a street some 30 kilometres north of Athens December 15, 2004. Two gunmen who hijacked a Greek bus carrying 26 passengers on Wednesday want to go to Athens airport to leave the country, the head of the bus company said. [Reuters]

They said gunshots had been heard, but that they did not yet know who the gunmen were, why the Marathon-Athens bus had been hijacked or if they had any demands.

"A group of two people, both foreigners, took over the bus this morning," a police official told Reuters. "There are 26 passengers on the bus that left Marathon this morning en route to Athens."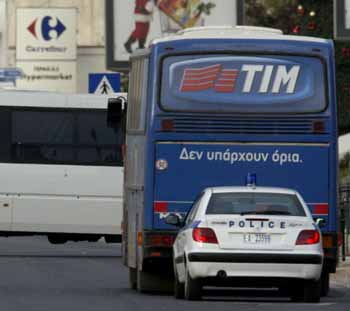 A police car is seen behind a hijacked bus on a street some 30 kilometres north of Athens December 15, 2004. Greek police forces surrounded the bus after two armed men hijacked it early Wednesday morning with 26 passengers on board on its way from northern Athens suburbs to the Greek capital. [Reuters]

"Shots were heard, police cars rushed to the scene and more shots were then heard. The bus is stopped, police have surrounded it."

A group of negotiators have arrived at the scene to talk to the gunmen, he said.

Hundreds of police officers, snipers in camouflage and special forces took up positions around the vehicle, while one police car, flashing its lights had parked behind the bus.

There have been no reports of any injuries, but a police official said one of the gunmen was seen approaching the front of the bus and firing off two warning shots.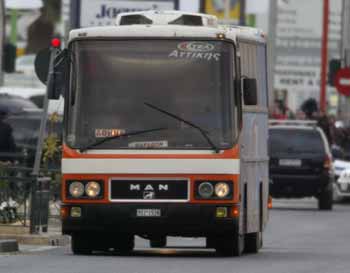 A hijacked bus is seen on a street some 30 kilometres north of Athens December 15, 2004. Two armed hijackers of a Greek bus want to go to Athens airport, the chief of the company that owns the bus said on Wednesday. [Reuters]

The driver of the bus and the ticket inspector managed to escape early on in the hijacking along with one passenger and told police the gunmen were Albanians.

"He (the driver) has told police that there were two of them and that they are Albanians," the source said.

A police spokesman said the gunmen carried hunting rifles and that they were most likely Albanians.

"We cannot say it a hundred percent but it is very likely according to our information," he said.

An eyewitness told Greek television he saw the driver of the bus run away from the vehicle and then he heard shots.

The curtains in the bus windows have been closed, blocking views inside, and a police helicopter hovered above. Television pictures had earlier shown one man carrying a rifle and standing inside the bus near the front seats.

Police cars blocked traffic along the busy eastern Athens highway leading to Marathon and kept news crews hundreds of yards away. Dozens of ambulances could be seen parked nearby.

This is the first such incident since two deadly bus hijackings by Albanian gunmen shocked the country five years ago.




Today's Top News
Top World News

Target jobless rate to see first drop after years




Party school raises AIDS awareness




Mass entries vie for 2008 Olympic mascot




Taiwan separatist actions prove unpopular




Fed raises US interest rate to 2.25%




N.Korea: Any sanctions would mean war