First memorial hall for sea burials opened
(Gone With The Sea)
Updated: 2004-12-15 09:05
China's first memorial hall for people buried at sea opened yesterday in Shanghai.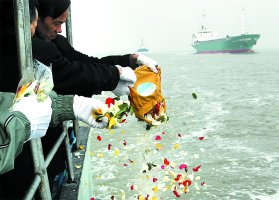 A man drops ashes of the deceased into the sea. [file photo]
About 7,000 names of those who chose a sea burial have been engraved on five monuments in the hall, which is located in Shanghai Binhai Guyuan Cemetery in Fengxian District. Names are engraved free of charge.
More than 100 local residents visited the hall yesterday to pay their respects to their deceased beloved ones.
"We felt we were lost during the Qingming and Dongzhi festivals, when other families were busy sweeping their ancestors' tombs," said Ma Songlin, who buried his father at sea in 1994 and mother one year later. "Now we regain a sense of belonging."
Since 1991, the funeral management division of the Shanghai Civil Affairs Bureau has held 76 mass sea burials. Altogether 10,268 people's ashes were thrown into the East China Sea.
The city government offers a 150 yuan (US$18) subsidy to those burying loved ones at sea. The cost of the burial is 150 yuan for each family member that attends the ceremony. An ordinary 1.5-square-meter tomb, however, costs at least 7,000 yuan.
So far this year, 1,380 people have been buried at sea in Shanghai.
Gao Jianhua, vice director of the bureau's funeral management division, said sea burials, together with other methods such as burying ashes under a tree, help to save a lot of land resources.
About half of the 100,000 people who died in the city every year are local residents. Therefore, it would take at least 150,000 square meters of land if they were all buried underground, Gao said.
"Sea burials mean we will leave our young generations richer resources," Gao said.
| | |
| --- | --- |
| | |
| Zhang Ziyi sure to show up at Oscar | |

| | |
| --- | --- |
| | |
| China awaits crowning of Miss Plastic Surgery | |

| | |
| --- | --- |
| | |
| Former diving queen Fu Mingxia mums new boy | |
Today's Top News
Top Life News

Target jobless rate to see first drop after years




Party school raises AIDS awareness




State enterprises welcome investors




Mass entries vie for 2008 Olympic mascot




Fed raises US interest rate to 2.25%




National Theater to be completed in 2005