Iran open to U.S. involvement in nuclear talks
(Agencies)
Updated: 2004-12-15 08:51
Iran would not object to Washington joining negotiations with the European Union over its nuclear program provided the United States treated Tehran with respect, Foreign Minister Kamal Kharrazi said Tuesday.
Britain, France and Germany began talks in Brussels on Monday with Iran aimed at brokering a long-term agreement over Tehran's nuclear activities, which Washington says are geared to building atomic arms.
Iran says its nuclear facilities will only be used to generate electricity.
Washington has so far given only lukewarm backing to the Iran-EU talks, with several officials hinting they expect the negotiations to fail to halt Iran's atomic ambitions.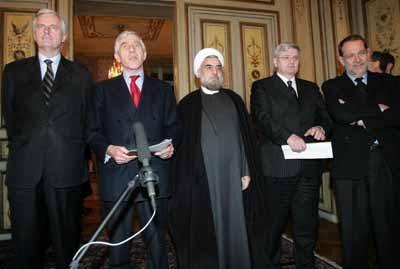 Iran's chief nuclear negotiator Hassan Rohani (C) holds a joint news conference with French Foreign Minister Michel Barnier (L), British Foreign Secretary Jack Straw (2ndL), German Foreign Minister Joschka Fischer (2ndR) and EU foreign policy chief Javier Solana (R) in Brussels December 13, 2004. European foreign ministers voiced caution before the start of talks with Iran on Monday on a long-term agreement on nuclear, economic and strategic cooperation, and Tehran vowed to continue disputed research. The negotiations follow Iran's agreement last month to suspend activities that could help make a nuclear bomb. [Reuters]

This approach prompted seven former foreign ministers, led by ex-Secretary of State Madeleine Albright, to argue in a newspaper article Monday that Washington must throw its weight behind the talks if they are to succeed.

Asked about the proposal, Kharrazi said: "There is no reason not to negotiate with others if they observe mutual respect and equality, like we are doing with Europe."

"Our condition for negotiating with America is that they negotiate with us based on principles of mutual respect and equality and not to impose their viewpoints," he told a joint news conference with visiting South African Foreign Minister Nkosazana Dlamini-Zuma.

In their Washington Post article, the former ministers said: "While it is unclear whether this deal will ultimately halt Iran's nuclear ambitions, only a unified approach will enable Europe and the United States to find out."

"Washington should put its full support behind this diplomatic effort and consider launching commercial and diplomatic engagement with Iran," said the authors, who included Britain's Robin Cook and France's Hubert Vedrine.

White House spokesman Scott McClellan said Tuesday Washington was supportive of European efforts but said negotiations needed to go beyond Iran's agreement last month to suspend activities that could help to make a nuclear bomb.

"What we believe is important is that ultimately Iran agree to end its nuclear weapons program, not just suspend it," McClellan said.

Washington broke ties with Iran in 1980 and in 2002 dubbed it an "axis of evil" member with North Korea and pre-war Iraq.

Washington's sway over the nuclear negotiations was illustrated Monday when it again blocked Iran's attempts to join the World Trade Organization.

The EU had agreed to support Iran's WTO membership as part of a deal thrashed out in November under which Tehran has frozen all nuclear activities that could be used to make bomb fuel.

Kharrazi said the EU's ability to remove U.S. resistance to Iran's WTO membership was a test for the fledgling nuclear deal.

"The EU members adopted a good stance in this (WTO) session, but whether they can remove this obstacle or not will also show the capacity of the EU. They have promised to and naturally should do their best to remove it," he said.

Kharrazi said Iran was eager for the EU-Iran talks to show results. Iran has said it will continue to freeze its nuclear activities only as long as the EU talks show progress.

"We have no interest in wasting time and look forward to assessing (the talks') trend after three months to see if negotiations can guarantee Iran's right to nuclear technology for peaceful purposes or not."