Possible meteor lights up night sky in Gansu
(China Daily)
Updated: 2004-12-15 08:36
The cause of the fireball seen streaking through the night sky on Saturday in Northwest China's Gansu Province has not yet been confirmed.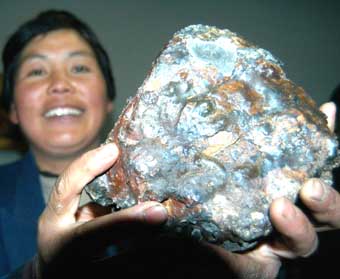 A woman shows a piece of meteorite dropped onto the earth after the nightly explosion in Gansu Province Saturday night. [newsphoto]


"Rumbling, rumbling, rumbling, and then bang," said fireman Chen Yuanrong, from Lanzhou in the province, who admitted being left speechless by what he saw.

The Gansu Provincial Seismology Bureau recorded that an explosion took place in the suburbs, some 60 kilometres from downtown Lanzhou. By press time, the strange burning object, or what remains of it, had not been found by officials.

Chen said he is among hundreds of Lanzhou residents who reportedly spotted the "strange object" sweeping through the sky at 11:36 pm on Saturday. It was accompanied by earth-shattering rumbles.

"Nearly all of my fellow firemen heard the sounds, but I was lucky enough to see the bright object," Chen told China Daily in a phone interview yesterday.

At about 11:20 pm, the rumbling began and lasted approximately 15 minutes. Lying on his bed and looking out of his dormitory window, Chen saw the object lighting up the sky, turning night into day.

"Finally came the bang, but a long rumbling preceded it," Chen said.

According to the Beijing-based China Times, many eyewitnesses reported seeing two trails of unusually bright light. A taxi driver told the paper he was in his car when everything suddenly became "as bright as day."

When he pulled over, he saw a fireball with a long tail streaking across the sky, he said.

Police, working on the theory that it was a meteorite, set out to investigate the matter, but they have found no concrete evidence.

The local security department confirmed they had received more than 700 calls from people reporting the sighting. Some claimed it was an earthquake, and others assumed it was a falling aircraft.

Liu Yanan, astronomy professor at the Northwest Normal University, said it might have been a meteorite entering the earth's atmosphere.

Local media are eager to uncover the facts or obtain evidence that could contribute to a scientific explanation. The Lanzhou Morning News has even posted a reward of 5,000 yuan (US$602) for anyone offering a substantial lead.

A fire broke out on a farm near Lanzhou on Saturday night which was presumed to be caused by the fireball, and by press time Zeng Dehua, a reporter from the Lanzhou Evening News, was on his way with local police to the site.




| | |
| --- | --- |
| | |
| Zhang Ziyi sure to show up at Oscar | |

| | |
| --- | --- |
| | |
| China awaits crowning of Miss Plastic Surgery | |

| | |
| --- | --- |
| | |
| Former diving queen Fu Mingxia mums new boy | |
Today's Top News
Top Life News

Target jobless rate to see first drop after years




Party school raises AIDS awareness




State enterprises welcome investors




Mass entries vie for 2008 Olympic mascot




Fed raises US interest rate to 2.25%




National Theater to be completed in 2005