Pakistan says nuke talks with India "constructive"
(Agencies)
Updated: 2004-12-15 00:48
South Asian rivals Pakistan and India discussed steps to avert misunderstandings over their nuclear arsenals on Tuesday including a draft accord to notify each other before missile tests, a Pakistani official said.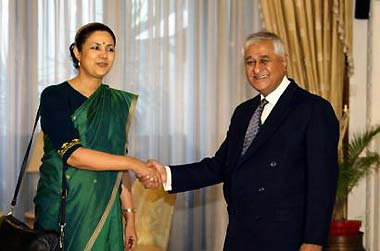 Pakistan's Additional Secretary of the Foreign Office Tariq Osman Hyder (R) greets his Indian counterpart Meera Shankar upon her arrival at the Foreign Ministry for talks in Islamabad December 14, 2004. [AP]
Foreign Ministry spokesman Masood Khan said two rounds of expert-level talks in Islamabad had been held in "a very cordial and constructive manner". "The two sides zeroed in on pre-notification of missile tests," he said.
The talks in Islamabad were part of a cautious peace process relaunched under international pressure early this year after the two countries went to the brink of a fourth war in 2002.
India and Pakistan already have an informal understanding to notify each other before missile tests but have been seeking to formalise it.
In a second day of talks on Wednesday, the foreign ministry experts were to discuss a framework for confidence building measures covering their conventional arsenals. India has proposed an agreement to maintain a ceasefire in the divided Kashmir region and more military contacts.
Analysts said ahead of the talks that no breakthroughs were expected and any understandings reached would have to be formalised at some stage in the future.
Pakistan's Foreign Minister Khursheed Mehmood Kasuri met the head of the Indian delegation, Meera Shankar, before the talks and said he hoped the discussions would help move forward the overall peace process, a Pakistani statement said.
He said that since both countries were declared nuclear states it was "high time" they worked together on issues discussed at multilateral forums.
INDIA WARNS ON U.S. ARMS SALES
Prospects for an understanding on conventional weapons looked remote when India said last week that any U.S. arms sales to Pakistan would affect its relations with Washington and the slow-moving India-Pakistan peace process.
India's comments came after the Pentagon notified the U.S. Congress last month of three proposed arms sales to Pakistan worth $1.2 billion. These include eight P-3C Orion surveillance aircraft, which Islamabad says would be used in the hunt for Islamic militants on its western border.
On Monday, Pakistani spokesman Khan called the Indian statement "disturbing".
He said Pakistan's programme was modest compared with that of India, which was spending tens of billions of dollars to acquire sophisticated weapons from around the world.
"We do not want to match India gun-for-gun, missile-for-missile, aircraft-for-aircraft," he said.
Pakistan and India, which have fought three wars since independence from Britain in 1947 and conducted tit-for-tat nuclear tests in May 1998, alarmed the world in 2002 when they went to the brink of a fourth war over Kashmir.
Pakistani anti-nuclear activist Pervaiz Hoodbhoy described the talks as a cosmetic attempt by the neighbours to show they were responsible nuclear states, but noted there were no plans to discuss cuts in arsenals or a shared nuclear doctrine.
In New Delhi, Indian and Pakistani narcotics control agencies ended two days of separate talks by vowing to cooperate to fight drug trafficking and production.
In another set of talks on Tuesday forming part of what both countries call a "composite dialogue", officials discussed a dispute over their Arabian Sea coastal border at Sir Creek.
A Pakistani statement said they discussed a joint survey of boundary markers. It said "a consensus generally emerged" and a concluding session would be held on Wednesday.
Today's Top News
Top World News

Target jobless rate to see first drop after years




Party school raises AIDS awareness




Mass entries vie for 2008 Olympic mascot




Indian train crash kills 27, injures 60




State enterprises welcome investors




Fed raises US interest rate to 2.25%