Target jobless rate to see 1st drop after years
By Fu Jin (China Daily)
Updated: 2004-12-14 00:09

Plans to create 9 million jobs in 2005 will help lower the registered unemployment target in urban China for the first time in years.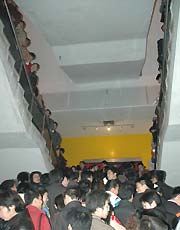 Under-graduates crowd the stair to the hall of a job enter in Shijiazhuang, capital of North China's Hebei Pronvince on December 8, 2004. [newsphoto]

The urban registered jobless target rate has been lowered to 4.6 per cent, 0.1 percentage point lower than this year's control target set at the end of 2003.

This is the first time since 2000 that the government lowers its unemployment targets, Yu Famin, director of the employment department of the Ministry of Labour and Social Security told China Daily.

The so-called registered unemployment rate covers urban jobless people who report their unemployment situation to the government.

It is the official indicator used by the government to make unemployment decisions.

The government's goal has risen from about 3 per cent in 2000 to 4.7 per cent in 2004. The projected rate for 2003 was 4.5 per cent.

Yu said the lower target rate is based on robust economic growth and an encouraging job situation in China.

The Economic Observer, a widely circulated in-depth economic weekly, cited Ma Kai, minister of National Development and Reform Commission as saying that the government has decided on an increased economic growth rate of 8 per cent for 2005.

The rate is one percentage point higher than the government's target for this year set at the end of 2003. However, China's economy is expected to achieve a 9 per cent year-on-year growth in 2004.

Ma also said the nation's job-creating endeavours have paid off and this year more than 9 million more people were employed in urban areas. The registered jobless rate in urban areas stood at 4.4 per cent, 0.3 percentage points lower than the target set at the end of 2003.

But researchers said employment is still a challenge for the Chinese Government.

Cai Fang, senior researcher with Chinese Academy of Social Sciences, said the wider unemployment picture in China should include rural areas, where there are still some 15 million surplus workers.

At the same time, a shortage of skilled workers has become a headache in many places, said Yu.

He said shortages are still faced by many industries across China, especially in major economic powerhouses, like the Yangtze River Delta and the Pearl River Delta regions.

"A dearth of skilled workers has had negative effects on the development of some products, enterprises and industries," said Yu.

Statistics show that among the 70 million workers in the nation, senior technicians account for only 3.5 per cent, compared with a 40 per cent ratio in developed countries.

This year, only one out of 10 positions for skilled workers was filled at job fairs and an average worker gets two job offers.

To cope with the problem, the government plans to train 150,000 skilled workers in 2005, following this year's national training plan of 100,000. By the end of 2006, the country will finish its blueprint to train a total of 500,000 skilled workers nationwide.

"Western regions and Northeast China will become our bases of such training," said Yu, adding that the three-year training programme will help offer well-educated labor for the country's strategies to develop western China and rejuvenate the old industrial belt.