National Theater to be completed in 2005
(Xinhua)
Updated: 2004-12-14 00:09
Construction work on Beijing's 325-million-US dollar National Grand Theater is expected to complete by the end of 2005, with its first show opening 2006, the project undertaker announced Monday.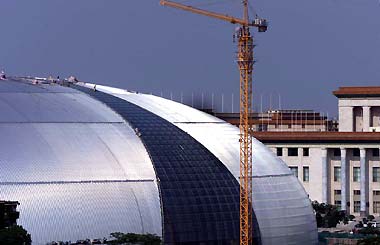 A file photo taken in July 2004 shows the shining shell of the theater nearly completed. [newsphoto]

Dec. 13 marks the third anniversary date since the project broke ground.

"After the project's completion next year, we will attune the sophisticated musical facilities in the theater's three major buildings, the concert hall, the opera house and the drama hall," said an official with the project undertaker, the Project Owner's Committee.

"The attuning process will last several months, as musical instruments such as the pipe organ require clean, dustless environment," acknowledged the official.

The committee noted that many top performing companies at home and abroad have consulted on its performing procedures.

The bid for the first show is especially hot. The theater's art director said months earlier that it had received 21 proposals for the theater's first show, some of which are from other nations, including the Royal Opera from England, but that they haven't made a final decision.

The project, designed by French architect Paul Andreu, was begun in December 2001 after years of delays.

Situated near the huge Tiananmen Square and behind the magnificent Great Hall of the People, the theater is an enormous glass and titanium tear-drop-like bubble surrounded by water.

The imposing building, occupying an area of some 149,500 square meters (1.6 million sq feet), comprises three gigantic halls, including a 2,416-seat opera house, a 2,017-seat concert hall and a 1,040-seat theater.




Today's Top News
Top China News

Target jobless rate to see first drop after years




Party school raises AIDS awareness




State enterprises welcome investors




Mass entries vie for 2008 Olympic mascot




Fed raises US interest rate to 2.25%




National Theater to be completed in 2005