Guangdong to seek cash from vessels over spill
By Zheng Caixiong (China Daily)
Updated: 2004-12-14 21:51
South China's Guangdong Province plans to go after damages from two vessels that collided and dumped thousands of litres of oil at the mouth of the Pearl River.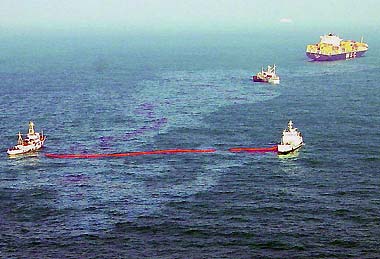 Ships are busy controlling the oil from spreading in this file photo taken on December 9, 2004. [newsphoto]

But the amount of compensation sought will not be available until a damage assessment report is complete, said an official from the Guangdong Provincial Bureau of Ocean and Aquatic Products Industry yesterday.

A task force is now assessing the damage to local marine ecology and environment caused by the spill of crude oil. Its report is expected in two weeks.

"The marine accident resulted in the spillage of more than 1,200 tons of crude oil which has seriously damaged the ocean environment and ecology in the waters off Guangdong Province," the official told China Daily.

The crude oil spill was the biggest to date on Chinese waters.

Some of the crude oil has dissolved into the deep ocean water, adding to the difficulty of recovering it and cleaning it up, said the official who refused to be named.

As of yesterday afternoon, the cleanup was ongoing, which is believed to last a couple of more days.

The official said his bureau plans to take steps to repopulate fisheries damaged by the oil.

The collision happened near the mouth of the Pearl River on December 7 when a Panama registered ship collided with a German vessel.

Hvundai Advance, the Panama ship, was sailing from Shenzhen to Singapore when it collided with Mscilona, sailing from Shenzhen to Shanghai.

A fuel storehouse of the 300-metre-long and 75,500-ton Mscilona was broken and leaked the oil while the 182-metre-long and 21,000-ton Hvundai Advance was also seriously damaged.

The leaking oil soon formed two oil belts nine nautical miles in length and 600 metres wide.

The two damaged vessels have been taken away for repairs and further investigation.

No deaths or injures were reported.




Today's Top News
Top China News

Target jobless rate to see first drop




Party school raises AIDS awareness




State enterprises welcome investors




Mass entries vie for 2008 Olympic mascot




National Theater to be completed in 2005




Night sky lit up by possible meteor