Five dead, 13 missing in Hunan mine fire
(Agencies)
Updated: 2004-12-14 17:04
Five workers are dead and 13 are missing after a fire at a mine in central China, as rescuers continued efforts to reach 36 miners unaccounted for after a flood in the country's southwest.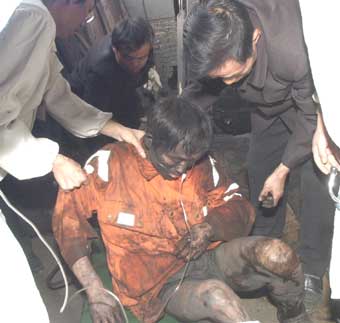 A miner is saved and lifted out of the coal mine shaft in Xiangtan, Hunan Province December 14, 2004. [newsphoto]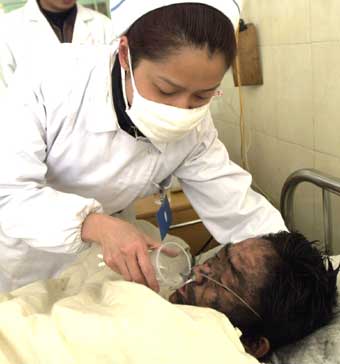 A nurse tends one of the three workers rescued from a coal mine that was hit by a fire in Xiangtan, Hunan Province December 14, 2004. Five were confirmed dead and 13 are missing in the underground fire. [newsphoto]

In the latest disaster to hit the industry, a fire broke out Monday in a coal mine in Xiangtan County in Hunan Province, trapping 21 workers.

Three have been saved, five were confirmed dead and 13 were missing, officials at the mine told AFP.

"When the fire happened there were 21 miners in the shaft. Early this morning we managed to save one and we have found four bodies, so now there are 16 missing," said Chen Qiguo, propaganda department chief in Xiangtan county.

"The fire has been extinguished but there is no electricity so we have no elevator to go down and find them.

"Our first priority is to get electricity back on. It is very difficult to say if they are alive or dead."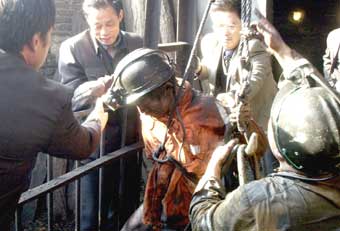 A miner trapped underground in the shaft fire is saved December 14, 2004. [newsphoto]

Meanwhile, rescue efforts were continuing at Xujiaba Tianchi mine in Sinan county, southwestern China's Guizhou province, as hopes dimmed of finding alive any of the 36 miners missing since Sunday.

"We are still pumping water. We need more pumps. We are hoping to get more pumps from other counties. None has been found yet," said an official involved in the rescue work who did not want to be named.

He refused to be drawn on their chances of survival.

Water gushed into the shaft Sunday when 80 miners were in the mine. Forty-four got out safely.

China's mining industry has been hit by a spate of disasters in recent weeks, including the deaths of 166 people in Shaanxi province and 148 miners in Henan province, both from gas explosions.




Today's Top News
Top China News

Sino-Russian joint military drill planned




Country to set up new nuke tech company




Control on SOEs to be tighter to avoid risk




Embassy: No decision made on Japanese aid




Beijing readies for coming job strains




Oracle acquires PeopleSoft in $10.3b deal