Andy Roddick fires coach Brad Gilbert
(Agencies)
Updated: 2004-12-14 09:35
Andy Roddick fired coach Brad Gilbert this weekend after 1 1/2 years together that yielded a U.S. Open title and the No. 1 ranking.
No specific reason was given for the surprising split in a statement Roddick released Monday through SFX Sports Group.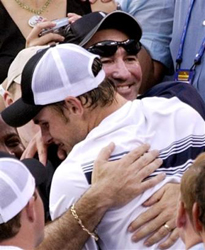 Andy Roddick, of the United States, hugs coach Brad Gilbert after his 6-3, 7-6 (2), 6-3 victory over Spain's Juan Carlos Ferrero to win the men's final at the US Open tennis tournament in New York, in this Sept. 7, 2003 photo. [AP]

"The decision to not rehire Brad Gilbert for the 2005 season is based on what I think is best for my game at this time," Roddick said. "Any more on this situation is a private matter between coach and player. That being said, I enjoyed my time with Brad and wish him continued success in his future."

Roddick went 121-26 (an .823 winning percentage) and won nine titles with Gilbert, including his first Grand Slam at Flushing Meadows last year. Roddick finished 2003 atop the ATP Tour rankings to become, at 21, the second-youngest American to end a season there.

But Roddick was relegated to No. 2 this year behind Roger Federer, who became the first man since 1988 to win three majors in a season. Federer, who hasn't had a coach since firing Peter Lundgren at the end of last year, beat Roddick for the Wimbledon title and in two other tournament finals to improve to 8-1 against the American over their careers.

It wasn't immediately clear who might replace Gilbert, who was not in Spain with Roddick for the Davis Cup final this month.

"I have enjoyed all of my time with Andy. He has been a great student of the game during the time that we worked together and I am very proud of the results that were achieved," Gilbert wrote on his Web site Monday. "While I believe that there is still a great deal of work to be done, Andy clearly does not feel that way."

After losing in the first round of the 2003 French Open, Roddick parted with longtime coach Tarik Benhabiles and hired Gilbert, who had helped Andre Agassi resurrect his career.

To that point last year, Roddick was 25-11 with one title. After teaming with Gilbert, Roddick went 47-8 the rest of the season with five titles, including his first at a Grand Slam.

This season, Roddick went 74-18 with four titles.

At Wimbledon this summer, where he wound up reaching his second career major final, Roddick discussed Gilbert's help.

"One of the coolest things about working with Brad was he came in, and he's like, 'Listen, we're going to simplify things. You're going to take what you've got, enforce it on your opponent. We're going to study each opponent, know what they do,'" Roddick said then. "It wasn't all this technical mumbo-jumbo. He made it very simple."




Today's Top News
Top Sports News

Sino-Russian joint military drill planned




Country to set up new nuke tech company




Control on SOEs to be tighter to avoid risk




Embassy: No decision made on Japanese aid




36 still trapped in mine, rescue goes on




Beijing readies for coming job strains