Seeking elderly Mr/Ms Perfect
(Shanghai Star)
Updated: 2004-12-14 09:12
"I hope I can find a wife who is five or 10 years younger than me. The candidates must be healthy, well-educated and approachable," said Zhang Zhihe, a 65-year-old engineer in Shanghai.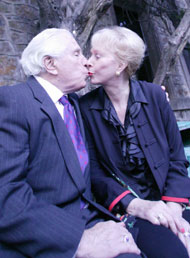 A loving partner and a happy bond are necessary for a quality senior life. [newsphoto]

He has lived a quiet life since his retirement. But a smile has seldom been seen on his face since his wife passed away two years ago.

Encouraged by his friends, he went to a matchmaking agency to seek Cupid's arrow.

There are more than 165,600 senior citizens who live single lives in Shanghai. Half of them want to find their Mr or Ms Right, according to the Shanghai Research Centre for Older People (SRCOP).

"The elderly people's attitude towards marriage has greatly changed in the past 10 years. Most of them want to have a romantic love affair and then a happy marriage," said Qu Hanbing, an employee from Shanghai Xiyanghong Matchmaking Firm.

"Five years ago, few elderly people came to matchmaking agencies because they thought it was embarrassing," said Qu.

"However, they are more open-minded now and are starting to carefully choose their next partner," said Qu.

A large number of older people prefer online matchmaking because they don't want to be bothered going to matchmaking firms and they have fast access to a host of candidates.

"The biggest advantage of online matchmaking is that people can find candidates any time," said Wang Xiaoying, manager of Yuanyang Yuan (Mandarine Duck Garden), an online matchmaking firm.

Demanding criteria

"Their criteria for Mr Right is demanding and except for basic requirements such as a good income and apartment, people focus more on physical appearance, character and hobbies," said Qu Donghua, a staff member from another matchmaking firm.

The firm has over 30,000 elderly people registered who hoped to find a partner with whom to live the rest of their lives.

"Most of the men are seeking a pretty, kind wife who will take good care of their husbands, while women try to find handsome, good-humoured and well-educated husbands who are in good shape," said Qu.

Shen Changbo, a 71-year-old man, has a good figure and a good income. He has lived alone since his son migrated to the US.

"My standard for a wife is high. Beside good looks, she should be under 60 and no less than 166 centimetres in height. What's more, she should be good at dancing," said Shen.

Shen has been registered at a matchmaking agency for a year but has not found anyone who fits his requirements.

Experts said cross-generation marriage among senior citizens has become a trend. Older people, especially men, hope to find a much younger partner.

"I hope my future wife is much younger than me," said Shen.

According to a survey made by the Shanghai Star, 90 of 120 senior men registered in the matchmaking agency preferred their future wife 10 years younger.

In the past, an elderly woman married a man mainly to find financial support while an older man married a woman just for better care.

"But their criteria nowadays when choosing another partner is no different from the younger generation," said an expert from SRCOP.

"Behind the requirement for the age gap lies the factor of sex," said Shi Chengli, an expert on sexology.

"A good sex life plays an important part in life after older people get married, which also requires a gap in their ages," said Shi.

Research has found that a man in his 70s still has an active sex life, which may continue into his 80s.

It might also explain the rising number of sex crimes among elderly men.

"However, most women will not have a desire for sex at that age. Their active sex life often stops when they reach 60," said Shi.

Research shows that the age gap in elderly marriage averages 11.1 years.

"The gap allows the couple to have a harmonious sex life," said Shi.

Besides the age requirement, older people take their lunar birthdays (shengcheng bazi) into account.

Shengcheng bazi, which includes the year, the month, the day and the time of the Chinese lunar calendar when one was born, is used as an important criteria to foretell if the two people are well matched. It used to be widely used in ancient China to decide a marriage.

"Some older people attach great importance to their partners' shengcheng bazi and have a very rigid criteria. If they thought the shengcheng bazi does not fit each other, they will give up," said Zhang Zhenhai, director of Shanghai Liangcheng Matchmaking Service Centre.

Experts say that although older people's lifestyle is modern, some traditional concepts still prevail among them.

"They show courage in seeking Cupid's arrow. However, some old concepts rooted in their mind still influence them," said Zhang.

Short marriage

Another feature of senior citizens' marriages is that they marry fast and get divorced in the end.

According to SRCOP, 60 per cent of people who marry in their old age end up divorced.

"There are many factors that separate them such as different lifestyles, financial conflicts and great pressure from their children," said Zhang.

"I could not bear his snoring all night. It annoyed me and made me sleepless. My former husband never did that," said Xu Dongfei, who divorced her husband two months after their wedding.

However, the biggest problems leading to the failure of older people's marriages are the rights of inheritance and financial conflicts.

The SRCOP found a large number of people solve the problem by co-habitating instead of marrying.

"This puts great pressure on older people even if their children do not oppose them,"said Zhang.





| | |
| --- | --- |
| | |
| Zhang Ziyi sure to show up at Oscar | |

| | |
| --- | --- |
| | |
| China awaits crowning of Miss Plastic Surgery | |

| | |
| --- | --- |
| | |
| Former diving queen Fu Mingxia mums new boy | |
Today's Top News
Top Life News

Sino-Russian joint military drill planned




Country to set up new nuke tech company




Control on SOEs to be tighter to avoid risk




Embassy: No decision made on Japanese aid




36 still trapped in mine, rescue goes on




Beijing readies for coming job strains