Oracle acquires PeopleSoft in $10.3b deal
(Agencies)
Updated: 2004-12-14 09:00
Oracle Corp. finally scooped up bitter rival PeopleSoft Inc. after 18 months of legal and verbal strife, ending a nasty feud with a $10.3 billion deal that promises to shake up the business software industry.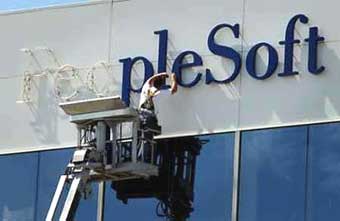 Business software maker PeopleSoft Inc. has accepted a sweetened $10.3 billion acquisition offer from rival Oracle Corp., ending a bitter, 18-month hostile takeover battle, the companies said on December 13, 2004. Letters are removed that make up the PeopleSoft logo at the company's headquarters in Pleasanton, California, June 18, 2003. [Reuters]

Oracle sealed the agreement, which was announced Monday, by upping its all-cash offer by 10 percent to $26.50 per share.

The final offer represents a 75 percent premium from PeopleSoft's market value before Oracle launched the takeover battle in June 2003.

"A lot of people compared us to Don Quixote tilting at windmills, but finally we now have PeopleSoft," Oracle CEO Larry Ellison said during an interview Monday. "Clearly, it's a great feeling. It's not that I wanted to win just for the sake of winning. It's the fact that PeopleSoft is instrumental to our strategy."

The resolution pleased investors.

PeopleSoft's shares surged $2.47, or 10.3 percent, Monday to close at $26.42 on the Nasdaq Stock Market, where Oracle's shares climbed $1.35, or 10.1 percent, to close at $14.63. Until Monday's gain, Oracle's stock had been worth roughly the same as when the PeopleSoft saga started.

Bolstered by the addition of PeopleSoft's 12,750 customers and nearly $3 billion in annual revenue, Oracle is betting it can mount a more serious challenge to German software maker SAP's leadership in business applications software ¡ª the computer coding that automates a wide range of administrative tasks.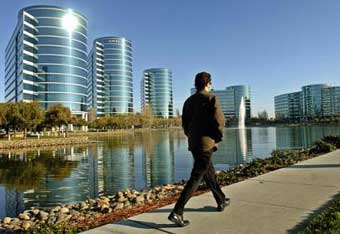 A man walks past the Oracle office in Redwood Shores, Calif., Monday, Dec. 13, 2004. Ending 18 months of bad blood, Oracle Corp. raised its takeover bid for bitter rival PeopleSoft Inc. by 10 percent to seal a $10.3 billion deal that will create the world's second largest maker of business applications software. The agreement, announced Monday, caps a rancorous Silicon Valley feud marked by churlish exchanges between the companies' management teams and colorful courtroom battles. [AP]

Oracle is already the world's largest supplier of databases ¡ª a position it hopes to strengthen by getting PeopleSoft's customers to spurn rival products from Microsoft Inc., IBM Corp. and Sybase Inc. in favor of Oracle's wares.

After completing the takeover next month, Oracle expects the PeopleSoft acquisition to boost its earnings by about $400 million, or 8 cents per share, in the fiscal year ending in May 2006.

"This is a coup for Oracle," AMR Research analyst Jim Shepherd said. "While there were other acquisitions that interested them, none could do for them what this will do."

Oracle eventually hopes to buy other tech companies, but won't consider any other large acquisitions until PeopleSoft is fully digested, Ellison said.

The fate of PeopleSoft's roughly 11,500 employees remains unclear. Oracle at one point drew up plans to fire more than 6,000 PeopleSoft workers, but the company recently has indicated that the purge might not be as dramatic as management originally envisioned.

"It's still going to be bloody for PeopleSoft employees," predicted Garban Institutional Equities analyst Richard Williams.

Keeping PeopleSoft's employees happy won't be as important to Oracle as pleasing most of the customers that it will inherit, Shepherd said.

For the deal to make financial sense, Oracle needs to keep collecting a steady stream of revenue for maintaining and upgrading the software of PeopleSoft customers. Some PeopleSoft customers have expressed serious reservations about the deal, threatening to defect either to SAP or another company specializing in software support.

"Our phones have been extremely busy with calls from PeopleSoft customers seeking an alternative," said Seth Ravin, president of TomorrowNow Inc., a Bryan, Texas-based company specializing in software support. "I think this Oracle is going to face some challenges" keeping PeopleSoft customers.

Oracle hopes to ease the customer concerns by continuing to develop new PeopleSoft products within a separate division of the merged company. "We are going to make heavy investments to keep those customers happy," Ellison said.

PeopleSoft provided Oracle extra incentive to take care of its customers by offering unusual guarantees as it tried to fend off the takeover. The guarantees could force Oracle to refund up to $2.4 billion to PeopleSoft customers if product support diminishes. Oracle doesn't expect to trigger the refund clauses.

News of the long-delayed PeopleSoft deal overshadowed the release of Oracle's financial results for the quarter ended Nov. 30. The company earned $815 million, or 16 cents per share, a 32 percent increase from $617 million, or 12 cents per share, at the same time last year. The earnings per share were two cents above the mean estimate among analysts surveyed by Thomson First Call.

Oracle's revenue rose 10 percent in the quarter to $2.76 billion from $2.5 billion a year ago.

Pleasanton-based PeopleSoft desperately wanted to remain independent, driven in part by the company's deep-rooted disdain for Oracle's products, as well as Ellison's blunt and sometimes ruthless management style. At one point in the corporate skirmish, PeopleSoft employees donned T-shirts declaring, "Larry, Kiss Our Apps!" to convey their defiance.

"This has been a long, emotional struggle," said George "Skip" Battle, a PeopleSoft director who oversaw the Oracle negotiations. "The board salutes our employees for their outstanding dedication to PeopleSoft and is grateful to our customers who have continued to buy our products and stand by us during these uncertain times."

To get the deal done, Oracle also had to overcome the U.S. Department of Justice, which sought to block the deal because it believed the merger would harm drive up software prices and diminish product innovation. A federal judge rejected the government's antitrust claims three months ago, removing one of PeopleSoft's strongest takeover defenses.

Oracle's bid received another boost when PeopleSoft unexpectedly fired its chief executive, Craig Conway, a former Oracle employee who had spearheaded the company's defiant resistance.

Ellison escalated the acrimony by occasionally taunting Conway.

After Conway's ouster, PeopleSoft's board focused on extracting a higher bid while Oracle executives lobbied for a lower price. The posturing changed over the weekend after PeopleSoft's board contacted Oracle to open serious negotiations for the first time since the saga began. The meetings gave Oracle its first chance to see PeopleSoft data that hadn't been publicly available, convincing the company it could afford to raise the bid, Ellison said.

Through November, Oracle had already spent more than $110 million in pursuit of PeopleSoft, which has poured more than $80 million into its takeover defense. As drawn out as it was, the takeover showdown didn't set any records for its duration. Other companies have spent two to four years locked in takeover tug-of-wars.

The truce between Oracle and PeopleSoft came just before the renewal of a Delaware trial focusing on an antitakeover defense known as poison pill. The mechanism represented the final obstacle preventing Oracle from completing the takeover after 61 percent of PeopleSoft's shareholders last month agreed to accept $24 per share.

The Delaware trial and another lawsuit filed by PeopleSoft will be dropped as part of the sale.





Today's Top News
Top World News

Sino-Russian joint military drill planned




Country to set up new nuke tech company




Control on SOEs to be tighter to avoid risk




Embassy: No decision made on Japanese aid




36 still trapped in mine, rescue goes on




WTO agrees entry talks with Iraq, Afghanistan