Ukraine govt aims to control poison probe
(Agencies)
Updated: 2004-12-14 08:57
Ukraine's outgoing government sought Monday to control the inquiry into the poisoning of presidential candidate Viktor Yushchenko, with officials close to the government taking charge of both investigations into who tried to harm or kill the leader of the "Orange Revolution."
The head of a new inquiry by lawmakers ! an ally of Yushchenko's opponent in the court-ordered Dec. 26 presidential rematch ! immediately cast doubt on whether deliberate poisoning could be proven. The decision by a parliamentary commission to reopen its probe came a day after a similar move by the country's new top prosecutor.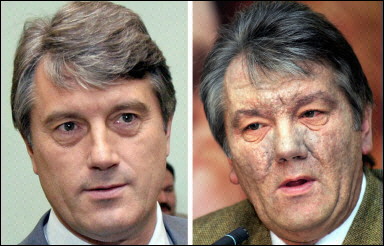 Ukrainian opposition leader Viktor Yushchenko pictured in July (L) and December. Yushchenko said he was not yet ready to blame the ruling elite with trying to poison him after doctors confirmed he was disfigured by ingesting a massive dose of a deadly toxin. [AFP]

Yushchenko praised Prosecutor General Svyatoslav Piskun on Sunday for resuming the investigation after an elite clinic in Austria determined over the weekend he had been poisoned by dioxin. But he said he hoped the investigation would be conducted after the election because he didn't want it to influence the vote "positively or negatively."

In Washington, State Department spokesman Richard Boucher said the Bush administration was deeply disturbed by the physicians' report.

"We support a full and complete transparent investigation into that matter, into how it happened, who did it, what the cause was," Boucher said Monday.

The poisoning was not the first time that government opponents have been attacked in this former Soviet republic. More than two dozen Ukrainian politicians, high-ranking businessmen and journalists have died under suspicious circumstances over the past 10 years. All investigations into the deaths have proved inconclusive.

Getting to the bottom of what happened to Yushchenko is fraught with difficulties because many people stood to gain if he were sidelined from the election.

Speculation about who might have been behind the poisoning began immediately.

Pro-Yushchenko lawmaker Yuriy Pavlenko speculated that Russian agents may have been involved ! a popular local theory stemming from President Vladimir Putin's backing of Yushchenko's rival ! Prime Minister Viktor Yanukovych.

"It is precisely Russia that was interested in neutralizing Viktor Yushchenko," Pavlenko said.

Many of the ruling elite faced the loss of lucrative contracts made possible by high-level connections if Yanukovych ! President Leonid Kuchma's hand-picked successor ! lost the race, analysts said. Many of those contracts involve Russia. All but one of Russia's major infrastructure links and natural gas exports to Europe pass through Ukraine.

The Ukrainian port of Odessa is an important regional trading outlet to the Black Sea and Middle East, while the naval base in Sevastopol is Russia's only deep-water port on the entire Black Sea coast. Russia also imports food from Ukraine and, in return, this country of 48 million is a key consumer of Russian goods and products.

Lawmakers from Yushchenko's party have said the Austrian clinic's findings confirmed that his opponents wanted to assassinate him rather than take the risk he would defeat Yanukovych. But some Ukrainian political analysts, such as Markian Bilynskyj, suggest that the point of the attack was to sideline Yushchenko long enough for him to drop from the public eye and lose support.

"The idea wasn't to kill him, to assassinate him," Bilynskyj said. "That would have turned Kuchma into a pariah. That would have been too obvious."

Doctors in Austria said Saturday that the dioxin, which caused dramatic facial disfigurement and other ailments, may have been slipped into his food.

Yushchenko had dinner with Security Service chief Ihor Smeshko and his deputy Volodymyr Satsyuk on Sept. 5. Yushchenko's American-born wife, Kateryna Chumachenko, told Ukraine's Zerkalo Nedeli weekly that her husband came home late and that when she kissed him she felt the strange taste of medicine.

The candidate fell sick the next day, and Ukrainian doctors treated him for food poisoning. Yushchenko was rushed to the Austrian clinic on Sept. 10. Smeshko has denied poisoning him.

Mikhail Pohrebinsky, a Kiev-based political analyst with ties to Kuchma, said all of the scenarios about Yushchenko's poisoning "are politically motivated and far from the truth."

For his part, Yanukovych said he sympathized with his rival and that he wished him "no evil."

In an interview with The Associated Press, he demanded a thorough investigation and promised not to interfere. But he stressed that the impact of the dioxin could hamper Yushchenko's performance should he be elected in the rerun.

"The fact of the matter is that Yushchenko is seriously ill," he said." We can all see it."

While high concentrations of dioxin, a byproduct of industrial processes, remain in his blood, doctors said Yushchenko's organs have not been damaged and he is fit for the campaign trail. His prognosis depends on which dioxin he ingested ! which is not known ! and in what amount.

Dioxins, or dioxin-like compounds, are pollutants found in air, soil and water, which can be released when industrial waste is burned. They build up in fatty tissues of animals, and scientists believe that humans are exposed to them when they eat meat and fish. Breast-feeding infants and unborn children are at risk of suffering harmful effects like behavioral disorders and cancer if they are exposed to high levels.

The chemical used in Agent Orange, a defoliant sprayed to clear jungles of vegetation during the Vietnam War, included the most toxic form of dioxin.

The investigations mark the second time the parliament and the prosecutor took up such probes.

Piskun, the new prosecutor, was appointed by Kuchma on Friday to replace Hennady Vasylyev, who was accused of covering up fraud in the Nov. 21 presidential runoff. Ukraine's election commission declared Yanukovych the winner.

But Ukraine's Supreme Court threw out the results as tainted and ordered a Dec. 26 rematch after tens of thousands of opposition protesters ! wearing their trademark orange ! demonstrated in the capital for more than two weeks.

A decision by lawmakers is required before the parliamentary commission begins work. Parliament has not met since the Austrian clinic announced that Yushchenko had been poisoned, and it was unclear whether his allies in the chamber would object.

Volodymyr Sivkovych, who leads the commission, concluded in October that Yushchenko had suffered a combination of a viral infection and several other diseases, while prosecutors agreed that they could not determine he was poisoned.

Sivkovych said he had met with the prosecutor general and said the urgency with which the case was raised suggested that all matters would be thoroughly investigated. But he refused to comment on "speculation" over who was behind the poisoning.

"All those scenarios are more public relations than truth," he said.




Today's Top News
Top World News

Sino-Russian joint military drill planned




Country to set up new nuke tech company




Control on SOEs to be tighter to avoid risk




Embassy: No decision made on Japanese aid




36 still trapped in mine, rescue goes on




WTO agrees entry talks with Iraq, Afghanistan