36 still trapped in mine, rescue goes on
(China Daily)
Updated: 2004-12-14 00:59
Three dozen coal miners remain trapped underground after a serious flooding accident on Sunday in Sinan County, the city of Tongren in Southwest China's Guizhou Province.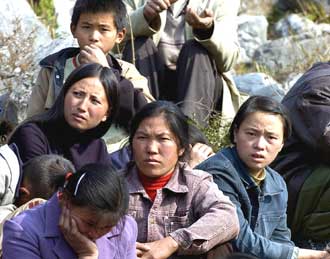 Relatives of the 36 miners trapped in the flooded mine wait anxiously for news about the fate of the miners at a hill near the mine in Sinan county, Guizhou Province, December 13, 2004. Rescue operation is underway to save the trapped workers. [Xinhua]

It remains unclear whether the men are still alive.

Eighty miners in all were below ground when the incident occurred.

It took place at about 12:30 pm in the Tianchi Coal Mine in Xujiaba, a town in Sinan County.

The mine has a designed production capacity of 30,000 tons and received a grade of "C" in a safety condition evaluation done by the local safety authorities, a mark that indicates improvements in safety conditions were necessary.

The coal mines with best safety conditions receive A and the worst receive D, which requires operations to cease while awaiting improvements.

Chinese Premier Wen Jiabao has instructed the provincial government to make an all-out effort and take any possible measures to rescue the trapped miners.

The rescuing operation is now under way with six water pumps moved in from other parts of the province. Rescuers are working night and day to bail out the mine.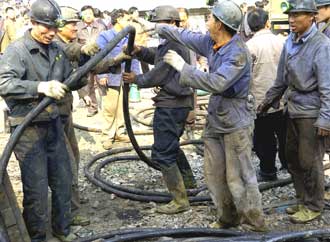 Rescuers try to pump water out of the flooded mine shaft to save the 36 workers trapped in the flooded mine in Sinan County, southwest China's Guizhou province December 13, 2004. [Xinhua]

"We need a special pump with larger power since the mine is so deep (about 260 metres)," said Jiang Xueming, a Guizhou Administration of Work Safety official.

The pump was expected to arrive at the scene last night, according to Jiang.

The cause of the accident is still under investigation.

In another development, the government of Yuxian County in North China's Shanxi Province, a leading coal producer in China, set up an investigation team on Sunday to investigate a coal mine explosion that claimed 33 miners at the Daxian Colliery last Thursday.

The team will be headed by Liang Jiakun, deputy director of the State Administration of Production Safety. Other members were chosen from Shanxi Province,the Ministry of Supervision and the All-China Trade Federation.

The gas blast trapped 71 miners underground, 38 of whom escaped.




Today's Top News
Top China News

Sino-Russian joint military drill planned




Country to set up new nuke tech company




Control on SOEs to be tighter to avoid risk




Embassy: No decision made on Japanese aid




36 still trapped in mine, rescue goes on




WTO agrees entry talks with Iraq, Afghanistan