'Thieves' pockets huge return
By Raymond Zhang (China Daily)
Updated: 2004-12-13 22:37
Without too much fanfare, A World Without Thieves, Feng Xiaogang's latest thrust into the holiday film season, easily pocketed 30 million yuan (US$3.6 million) on its opening weekend and is poised to become this year's box-office runner-up, right after House of Flying Daggers.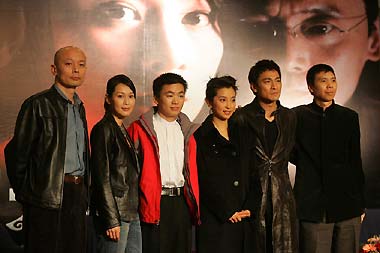 "A World Without Thieves" director Feng Xiaogang (first right) poses with actors and actresses Ge You (first left), Rene Liu from Taiwan (second left), Andy Lau from Hong Kong (second right), Li Bingbing (third right) and Wang Baoqiang (third left) during a premier on December 5. [newsphoto]
For the past few years, almost single-handedly, Feng created -- or imported -- the tradition of holiday blockbusters for the New Year's season. It has become almost as reliable as Auld Lang Syne that a Feng Xiaogang comedy, which usually touches some national nerve in China, will ring out the old and ring in the new.
Last year's Cellphone brought to the forefront of the national psyche the brewing phenomenon of cheating spouses and all the gimmicky applications of Chinese people's favourite form of communications.
A World Without Thieves is about a pair of pickpockets who are moved by a Forrest Gump-like potential victim and decide to give up their profession to help him. It at least alerts the public to the common practices of stealing, says Fu Zuoxin, a Beijing-based security expert who has studied more than 100 thieves.
The movie, starring Andy Lau from Hong Kong and Rene Liu from Taiwan, is making headway in southern China where Feng's old northern-dialect-heavy movies used to have a hard time.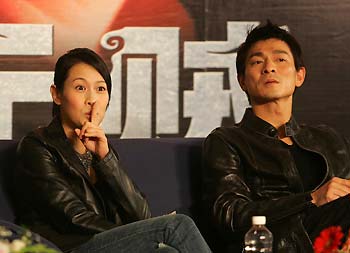 Hong Kong movie star Andy Lau (R) and Taiwanese actress Rene Liu attend a news conference to promote the film of "A World without Thieves" in Shanghai on December 5, 2004. [newsphoto]

According to Geng Yuejin, vice-president of Huayi, the film's distributor, the movie had a four-day gross of 5 million yuan (US$600,000) in Beijing alone. In Shanghai and Sichuan, box-office receipts tripled that of Cellphone for the same period. Even in Hong Kong, the daily tally has reached HK$400,000, which is a record for this season.

The Cantonese version released in Hong Kong was "translated" by a comics writer attuned to current trends and some of the mainland actors were dubbed by top talent from Hong Kong's film industry.

Earlier, Feng expressed his intentions of broadening his audience appeal beyond his hometown of Beijing.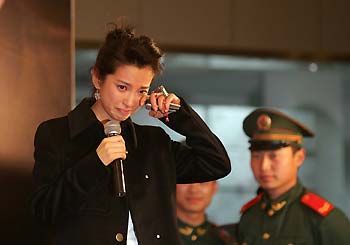 Mainland star Li Bingbing weeps while making an apology for being late at a news conference to promote the film of "A World without Thieves" in Shanghai on December 5, 2004. [newsphoto]

To drum up audience interest, he took his cast around the country for a series of local premiers. In Beijing, despite a partial boycott by local media presumably because Feng had a fracas with a reporter whose newspaper published Feng's home address and resulted in a stalking incident, the midnight debut on Thursday drew a large crowd.

"Feng Xiaogang is a very smart filmmaker. He knows how to fuse various elements and play up each of them to the full, yet without upsetting the main story line," commented Huo Ding, editor of Movieview, China's most popular film magazine.

"Feng has not veered away from his tenet of 'serving the people,' and from the audience reaction the public has again embraced him," Huo told China Daily.

A random sampling of audience feedback found a consensus that, unlike House of Flying Daggers, Feng's movie has lived up to expectations and even touched some hearts.




Today's Top News
Top China News

Sino-Russian joint military drill planned




Country to set up new nuke tech company




Control on SOEs to be tighter to avoid risk




Embassy: No decision made on Japanese aid




Beijing readies for coming job strains




Oracle acquires PeopleSoft in $10.3b deal