Country to set up new nuke tech company
By Fu Jin& He Na (China Daily)
Updated: 2004-12-13 22:37
In an effort to build up its nuclear power capacity, China plans to set up a new nuclear technology company.
The prevailing power shortages in about two-thirds of China's provinces last year has propelled the government to more than double nuclear power generation by the end of 2020.
And to prevent further air pollution, the country -- the second highest power user in the world -- is looking to shift from relying on coal-fired plants to nuclear power stations.
The Preparatory Office of the State Nuclear Power Technology Corporation (SNPTC) is already working. It kicked off in September under the direct authority of the State Nuclear Power Self-reliance Leading Committee.
Chen Zhaobo, the State Council-appointed project chief, said the preparatory office's goal is to set up the nuclear power corporation, organize tenders, carry out technology transfers and negotiate contracts for nuclear power projects.
"We are busy preparing for two new nuclear power reactors, composed of four units, in Guangdong and Zhejiang," Chen told China Daily.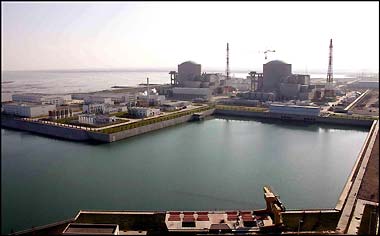 A file photo of December 6, 2004 shows the Tianwan nuclear power plant in Lianyungang, East China's Jiangsu Province. China and Russia jointly designed and constructed the site. [newsphoto]

The initial goal of the two projects is to shore up China's ability to independently design, build and operate third generation pressurized water reactors, Chen said.

"Those will become part of our own technology to develop our nuclear power blueprint," said Chen, adding that nuclear power is a power source integral to China's ongoing economic boom in the coming decades.

Still, he said, even after the current four units are finished, China plans to continue working with its partners to further promote nuclear power.

China currently has nine operating reactors, with a capacity of 6,450 megawatts. Together, they account for 1.4 per cent of the country's total power supply.

Even with the surge in reactor construction, nuclear power will only account for 4 per cent of China's electricity output by 2020, analysts estimate. The average among countries with nuclear power plants is 17 per cent.

The government has made it clear that there are many challenges ahead to ensure nuclear safety and it will expand international nuclear safety co-operation and strengthen supervision to guarantee safe operation of its nuclear installations.

"China will sincerely implement the Convention on Nuclear Safety and draw on the advanced technology and experience of other countries to ensure its nuclear safety meets international standards," said Xie Zhenhua, minister of the State Environmental Protection Administration.

Country a 'model' of nuke safety practices

In 1984, the country set up the National Nuclear Safety Administration (NNSA) of China, which has operated under the Environmental Protection Administration since 1989.

No major incidents have taken place at nuclear installations during the past 20 years, said Xie.

At the same time, radioactive elements in China's atmosphere, soil and surface and ground water are well within safety standards, he said.

However, he acknowledged that China still faces great challenges to ensure nuclear safety as it builds more nuclear power plants to feed the growing hunger for energy.

The NNSA's efforts have not gone unnoticed by the international community.

They have been praised by the International Atomic Energy Agency (IAEA), which said that the performance of nuclear power stations under its supervision has been excellent.

"The IAEA also sincerely believe that the NNSA, in the coming two decades, will strengthen its leadership role and continue to serve as a world model of good safety practices," said Tomihiro Taniguchi, deputy director of IAEA at a recent international conference.

China itself has already built up its ability to build nuclear power plants.

Vice-Premier Zeng Peiyan said China is capable of building 300,000 kilowatt-class and 600,000 kilowatt-class nuclear power stations -- of medium sizes in world standard -- after more than 20 years of efforts.

It can also manufacture key equipment for 1,000 MW-class -- of top class in world standard -- nuclear power stations, he said.

He said that in certain important fields, China has approached or reached international levels in the construction of nuclear power stations. In addition, the country has already established a rapid response system to deal with nuclear safety and potential accidents.

Chen Zhaobo said the active participation of foreign companies in nuclear power in China was a direct result of the government's move to accelerate construction.

Zeng Peiyan recently said more nuclear power could improve China's energy supply and ease shortages and also help boost the development of related industries and safeguard the national economic and energy security.

China's aggregated energy consumption now ranks second in the world, accounting for 11 per cent of the world total, according to Wu Guihui, deputy director of the Energy Bureau of the National Development and Reform Commission.

China's total energy consumption reached 1.68 billion standard tons in 2003, of which 67.1 per cent was coal, 22.7 per cent crude oil, 2.8 per cent natural gas, and 7.3 per cent renewable energy, said Wu.




Today's Top News
Top China News

Target jobless rate to see first drop after years




Party school raises AIDS awareness




Mass entries vie for 2008 Olympic mascot




Taiwan separatist actions prove unpopular




Fed raises US interest rate to 2.25%




N.Korea: Any sanctions would mean war