Suicide attack kills 13 in Baghdad
(Agencies)
Updated: 2004-12-13 20:25
A suicide car bomber killed 13 people Monday next to the fortified area in central Baghdad housing the interim government and U.S. embassy, and seven U.S. Marines died in combat in western Iraq.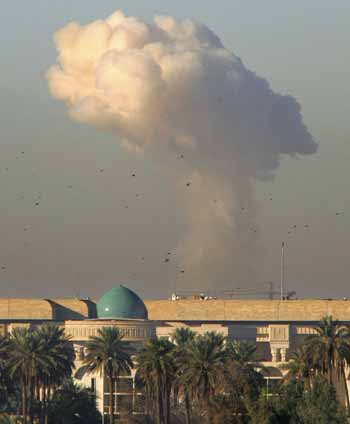 A column of smoke rises after a powerful car bomb exploded at a checkpoint leading into the so-called "Green Zone" in Baghdad December 13, 2004. The building in the foreground comprises part of the U.S. Embassy in Baghdad, which was not directly affected by the blast. There were no immediate reports on injuries or deaths. [Reuters]

The Marines were killed Sunday in separate incidents in Anbar province, a vast region in western Iraq comprising the battleground cities of Fallujah and Ramadi, the military said on Monday.

The fighting was the deadliest for U.S. forces since eight Marines were killed by a car bomb outside Fallujah on Oct. 30. The deaths brought to nearly 1,300 the number of American troops killed in Iraq since the U.S.-led invasion in March 2003.

In Baghdad, a vehicle waiting in line to enter the Green Zone at its western Harthiyah gate exploded as it drove toward the checkpoint, Iraqi police said.

Dr. Mohammed Abdel Satar of Baghdad's Yarmouk said 13 people were killed and 15 wounded in the suicide blast. The U.S. military said there were no injuries among its troops.

The international zone has been the scene of frequent attacks by insurgents during the past 18 months, killing and wounding dozens of people in car bombings or mortar barrages.

In the town of Mishahda, 25 miles north of Baghdad gunmen attacked an Iraqi National Guard patrol killing three soldiers and wounding thee others. The attackers fled, witnesses said.

Iraq's interim President Ghazi al-Yawer said in an interview broadcast Monday that the U.S.-led coalition was wrong to dismantle the Iraqi security forces.

"Definitely dissolving the Ministry of Defense and the Ministry of Interior was a big mistake at that time," al-Yawer told British Broadcasting Corp. radio.

He said it would have been more effective to screen out former regime loyalists than to rebuild from scratch.

"As soon as we have efficient security forces that we can depend on we can see the beginning of the withdrawal of forces from our friends and partners and I think it doesn't take years, it will take months," he told the BBC in London.

U.S. forces retook Fallujah from the insurgents in a bloody battle last month in which hundreds died, including at least 54 Americans.

At the time, U.S. commanders claimed the action had broken the back of the insurgency in the mainly Sunni Muslim areas of western Iraq, but fighting in the region has continued.

On Sunday, American jets pounded parts of Fallujah with missiles as insurgents fought running battles with coalition forces. At least 10 precision guided bombs were dropped on suspected rebel positions.

"We are still running into some of these die-hard insurgents that have either come back into the city or have been laying low," spokesman Lt. Lyle Gilbert said Monday. "As we are bringing in contractors to help with the reconstruction of Fallujah, this (fighting) slows the process down."

It was unclear whether the latest Marine deaths were connected with those clashes. The military said only that seven Marines died in two incidents while conducting "security and stabilization operations" in Anbar province.

Earlier, an eighth Marine was reported killed Sunday in Anbar, but the military later said the death had been included among the seven announced Monday.

In the nearby town of Ramadi, 30 miles west of Fallujah, insurgents launched several "indirect fire" attacks on U.S. Marine bases on Sunday, resulting in retaliatory artillery and mortar fire by American troops, Marine spokesman Capt. Brad Gordon said.

U.S. artillery fire killed one woman in the city, said Dr. Di'a al-Hiti from Ramadi Hospital.

In the southern city of Basra, insurgents fired mortar shells on Monday at the British consulate but caused no casualties, a spokeswoman said.

On Sunday, a lawyer for one of ex-dictator Saddam Hussein (news - web sites)'s top aides said a number of top leaders from the former regime had stopped taking meals in protest against the conditions of their detention and upcoming trials.

In Jordan, Saddam's attorneys released a statement ahead of Monday's first anniversary of his capture saying U.S. and Iraqi forces were holding the former president illegally.

"It was more of a forced abduction that later became compulsory concealment and solitary confinement, acts rejected by all international conventions," said a statement released by the team, which cited human rights conventions Washington allegedly had violated.

Saddam's lawyers were appointed by his wife, Sajida, but have not been able to contact their client. None were at his side when he was arraigned July 1 in Baghdad on preliminary charges, including killing rival politicians, gassing Kurds, invading Kuwait in 1990 and suppressing popular uprisings in 1991.

In Saddam's birthplace of Tikrit, a bomb placed under the car of an Iraqi National Guard officer, Capt. Khalil Hassan Hammoud, exploded prematurely Monday, injuring the officer's mother, spokesman Master Sgt. Robert Powell said.

In Mosul, U.S. soldiers detained two suspected bomb makers and uncovered a large cache of weapons and munitions, including plastic explosives, dynamite, rocket propelled grenade rounds, anti-tank mines and remote detonation devices, the military said in a statement.




Today's Top News
Top World News

Sino-Russian joint military drill planned




Country to set up new nuke tech company




Control on SOEs to be tighter to avoid risk




Embassy: No decision made on Japanese aid




36 still trapped in mine, rescue goes on




Beijing readies for coming job strains