Guizhou coal mine floods trap 36 workers
(Agencies)
Updated: 2004-12-13 16:42
Rescuers furiously pumped water from a shaft at a flooded mine in southwest China where 36 workers are missing and feared dead as the country reels from another disaster in the danger-plagued industry.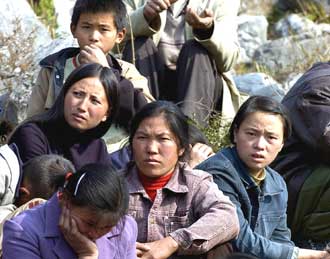 Relatives of the 36 miners trapped in the flooded mine wait anxiously for news about the fate of the miners at a hill near the mine in Sinan county, Guizhou Province, December 13, 2004. Rescue operation is underway to save the trapped workers. [Xinhua]

Water gushed into the Xujiaba Tianchi mine in Sinan county, southwest China's Guizhou Province Sunday when 80 miners were in the shaft, Wu Ming, an official at the mine, told AFP.

Forty-four workers got out safely, but the others were unaccounted for, he said.

"Right now we have five pumps working to evacuate the water, we still don't know how deep the water is," Wu said. "At this time it is hard to say if those in the mine have a chance to survive."

So far no casualties have been reported.

Provincial authorities had arrived on the scene to assess damage and conduct the rescue work, he said, adding that the mine was a small township-run operation registered with the local government.

It was unclear what measures the government would take, but, as often happens in these cases, other small mines were likely to be shut down for safety inspections.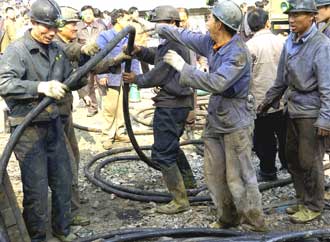 Rescuers try to pump water out of the flooded mine shaft to save the 36 workers trapped in the flooded mine in Sinan County, southwest China's Guizhou province December 13, 2004. [Xinhua]

China's mining industry has been hit by a spate of disasters in recent weeks, including the deaths of 166 people in Shaanxi province and 148 miners in Henan province, both from gas explosions.

Also this month, mining operations in the Guizhou village of Zuojiaying were seen as a possible cause of a devastating landslide that killed at least 39 people, state press said.

A lack of awareness and investment in safety procedures at mines has been seen as key element in the recent series of accidents.

On Friday, British and US mine safety experts said China should look to the industry in those countries if it seriously wanted to cut down on fatalities and improve safety standards.

For example, more than 100,000 coal miners have died in work-related accidents in Britain since 1850, but the rate of deaths decreased drastically after sustained efforts to make mining safer.

"Because we have been through that, should China have to go through it?" said Dave Feickert, a former British labor union official and coal mining expert.

"It's really important that our governments get behind that issue."

China reports about 7,000 mine fatalities annually.




Today's Top News
Top China News

Sino-Russian joint military drill planned




Country to set up new nuke tech company




Control on SOEs to be tighter to avoid risk




Embassy: No decision made on Japanese aid




36 still trapped in mine, rescue goes on




WTO agrees entry talks with Iraq, Afghanistan