Suicide bomber hits Baghdad's Green Zone
(Agencies)
Updated: 2004-12-13 14:59
A suicide car bomber attacked a U.S. military checkpoint at an entrance to Baghdad's Green Zone government and diplomatic compound Monday, a year to the day after U.S. forces captured Saddam Hussein.
"A suicide bomber hit Checkpoint 12. It's pretty ugly," a U.S. officer told Reuters.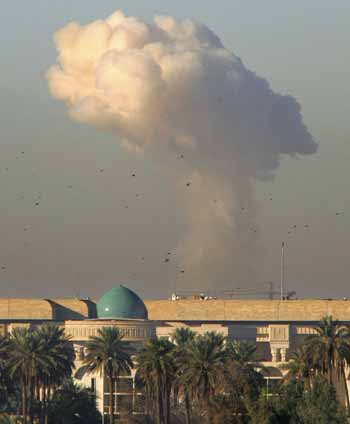 A column of smoke rises after a powerful car bomb exploded at a checkpoint leading into the so-called "Green Zone" in Baghdad December 13, 2004. The building in the foreground comprises part of the U.S. Embassy in Baghdad, which was not directly affected by the blast. There were no immediate reports on injuries or deaths. [Reuters]

The checkpoint is a main entrance to the sprawling complex which once housed Saddam's presidential palace.

An Iraqi police source said the suicide bomber was in a car.

Reuters journalists at the scene saw smoke pouring from the area, which had been sealed off by U.S. troops. Helicopters were circling overhead.

The blast, at 9:00 a.m. (0600 GMT), just when many Iraqis would be going to work in the Zone, shook buildings across central Baghdad.