Faye Wong's love: To be or not to be
(City Weekend)
Updated: 2004-12-13 11:11
After a series of heart-breaking relationships, Faye Wong may finally hear wedding bells.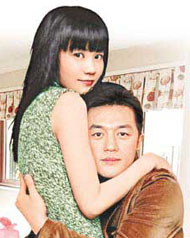 Pop diva Faye Wong and actor Li Yapeng, her present regular boyfriend.

Faye Wong's romances are constantly creating a salacious buzz. From her divorce from singer Dou Wei to the much-criticized love affair with boy-toy Nicholas Tse, Faye's personal life is always a hot topic.

While the love and tribulations of Faye's romances are splashed all over the media, the question remains if any of these men truly loved her.

Dou Wei left, and subsequently divorced, Faye because her fame skyrocketed while his just sputtered.

On the other hand, Nicholas embraced Faye and her fame to help catapult his career into the spotlight.

Either way, it seemed that Faye could not win the game of love: either she was too successful or she was used for her success.

Most recently, Faye became involved with actor Li Yapeng. When the gossips heard that they were an item, rumors swirled that Li was after Faye's money and fame.

While Faye often garners sympathy from her public relationships, Li is often seen as the heartbreaker. Before Li appeared on the world stage, his girlfriend was a regular office worker and knew nothing of the entertainment world.

As Li struggled to obtain success, she supported him financially and emotionally. Enter model/actress Qu Ying. Is it possible that once a well-known beautiful woman showed the slightest interest, Li could callously dumped his regular gal?

Ah, but do not blame Qu Ying for luring Li away. As soon as actress Zhou Xun showed interest, Li jumped ship yet again and left Qu drowning in her own tears.

For quite some time Zhou was criticized for being the evil other women, but Li's liaisons were not over.

Enter Faye Wong, Li's other, other woman. It appears that Li's fame rises concurrently with the star power of his girlfriends, leaving those to wonder if this is a coincidence or a series of smart career moves.

After Faye and Li's love was exposed at an airport, the gossip hounds jumped on their trail and soon intimate details, such as Li sending over 20 SMS messages to Faye everyday, were made public.

For help untangling this mysterious bond, a website that uses traditional Chinese fortune telling to predict the future by studying the strokes in a name, took at look at Faye and Li.

Faye's name is common and has less than 18 strokes. Her weakness is communication, but her strength lies in having a successful career; Li's name strokes foretell that he is a great communicator and also posses the ability to build a strong career.

Li may finally be the man to complement Faye¡¯s personality without the struggles of personal fame breaking them apart.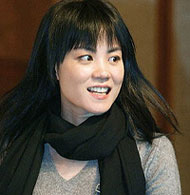 Hong Kong pop diva Faye Wong [AFP]

In early November, photos surfaced of the new couple buying furniture together, hand in hand.

When asked if they are engaged, Faye flippantly answered in her trademark cool tone, "Believe what you want."

To further stoke the gossip machine, Li was seen in Hong Kong buying a ring. Are there serious wedding bells in the future? It may just be written in the stars.




| | |
| --- | --- |
| | |
| China awaits crowning of Miss Plastic Surgery | |

| | |
| --- | --- |
| | |
| Former diving queen Fu Mingxia mums new boy | |

| | |
| --- | --- |
| | |
| Faye Wong's love: To be or not to be | |
Today's Top News
Top Life News

Sino-Russian joint military drill planned




Country to set up new nuke tech company




Control on SOEs to be tighter to avoid risk




Embassy: No decision made on Japanese aid




36 still trapped in mine, rescue goes on




WTO agrees entry talks with Iraq, Afghanistan