Yang Liwei: Face adversity to reach dreams
(HK Edition)
Updated: 2004-12-13 10:25
Young people should be determined, in the face of adversity, to overcome hardships to achieve their dreams.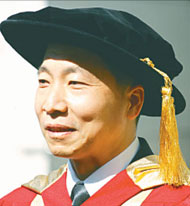 Yang poses for a photo in doctorate graduate attire in the Chinese University where he received an honorary doctor degree. [newsphoto]

China's space hero Yang Liwei said this at the Chinese University when he met with more than 500 students and academic staff to discuss his insight on the future of space travel.

Yang received an honorary doctorate of science from the university on Thursday, where he was greeted enthusiastically by citizens and onlookers.

"In order to achieve our goals, we must have the courage to face difficulties and to overcome them. My training was particularly hard, and I was pushed to my limits in five years of severe practical training that included tests under high gravity-forces and wilderness survival," Yang told students.

"With perseverance and determination, I was able to endure the tough training," he added.

Yang said his five-year training consisted of over 30 disciplines and more than 100 courses covering an extensive range of subjects, including aviation dynamics, air dynamics, geophysics, space physics, jet propulsion, space navigation, flight monitoring and control.

He was finally selected as China's first astronaut for being able to maintain the best psychological stability, displaying solid composure during the final phase of training and assessment.

Yang revealed that the launch of the Shenzhou VI is scheduled for the coming year. Other plans include the construction of space stations and astronautical experiments, which are expected to push forward the development of China's manned space programme to new heights.

Yang said he hoped the students of Chinese University would be interested in participating in space travel.

"Our nations' manned space programme continues to gain momentum and we will continue to recruit young candidates. I hope students here could be a part of it in the near future," he said.

When asked if his son will follow in his footsteps, Yang told reporters that his son is still too young to make a career decision.





| | |
| --- | --- |
| | |
| Former diving queen Fu Mingxia mums her second boy | |

| | |
| --- | --- |
| | |
| Faye Wong's love: To be or not to be | |

| | |
| --- | --- |
| | |
| Fan Bingbing | |
Today's Top News
Top Life News

Local legislative vote a slap on Taiwan separation




Human rights situation improved in China




Yushchenko says authorities poisoned him




Textile limits imposed to ease trade concerns




15 killed in Philippines market blast




Road accidents kill 96,870 this year