Two candidates claim Romanian presidency
(Agencies)
Updated: 2004-12-13 10:18
Both candidates claimed victory in the Romanian presidential runoff vote Sunday, and exit polls showed Bucharest Mayor Traian Basescu and Prime Minister Adrian Nastase in a virtual tie.
Nastase, 54, of the governing Social Democracy Party, expressing confidence in his victory, said: "I will be a strong president."
The 53-year-old Basescu also declared victory, saying: "I thank the Romanian electorate, and I assure them I will be a president for Romania."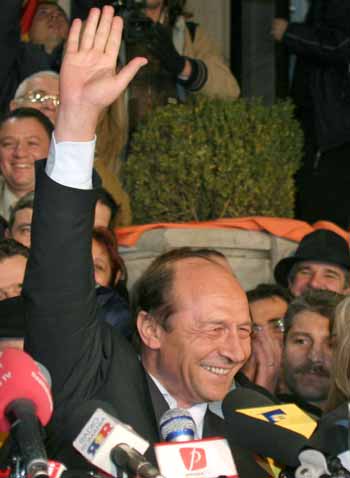 Bucharest's popular mayor Traian Basescu gestures after the first exit polls showing him and Romania's Prime Minister Adrian Nastase virtually neck-and-neck from the second round of presidential elections in Bucharest, December 12, 2004. The ruling Social Democrats badly need a Nastase victory to hold on to power in the European Union candidate country following inconclusive parliamentary elections two weeks ago. [Reuters]

Authorities were expected to release partial results early Monday and final results Wednesday. Neither candidate won the required 50 percent of the vote in the first round on Nov. 28.

Hundreds of Basescu supporters gathered in University Square in downtown Bucharest, dancing and singing his name. Dozens of riot police ringed the demonstrators, who waved orange balloons and the orange flags of his Justice and Truth Alliance.

Basescu arrived shortly after midnight, wearing an orange jacket. He was greeted by hundreds of supporters shouting, "We won!" He called on them to celebrate peacefully and urged them to leave the square and return Monday night.

The crowd responded, "We're not leaving!"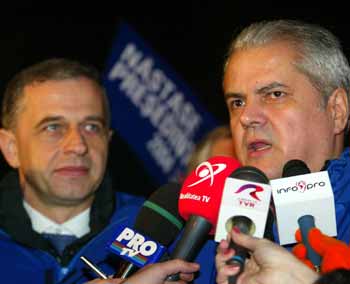 Romania's Prime Minister Adrian Nastase (R) speaks to the media as Foreign Minister Mircea Geoana (L) looks on after the first exit polls showing Nastase in a tie against centrist opponent Traian Basescu in the second round of the presidential elections in Bucharest, December 12, 2004. The update, which included votes cast in the remaining two hours of the vote, showed both rivals with 50 percent each. An earlier poll by state television also showed them running neck-and-neck. Official results are due on Monday. [Reuters]

The party's color, coincidentally, is the same as that of Ukraine opposition presidential candidate Viktor Yushchenko, whose backers blockaded government buildings in Kiev, the capital, and focused worldwide attention on their successful protests against corruption in November's runoff election. The nation's Supreme Court ordered a rematch for Dec. 26.

Alliance supporter Marius Popa, a 42-year-old professor from the Transylvanian city of Cluj, saw a parallel to the Ukrainian standoff and to Yushchenko, who was diagnosed Saturday as having been intentionally poisoned with dioxin.

"In Ukraine the crypto-Communists also tried to impose their point of view. Their opponent, who was poisoned, tried, and is trying, like Basescu to reform society," Popa said.

In Bucharest, Dan Jijiev, a 34-year-old engineer, said: "If Basescu doesn't win, we will have a second Ukraine. I will stay here until they get rid of (Nastase)."

Late Sunday, dozens of Nastase supporters rallied at his party headquarters, chanting: "We fight, we fight and we win!" The party later put on a fireworks show for supporters.

After Basescu's victory declaration, outgoing President Ion Iliescu, who has led Romania for 11 of the past 15 years, urged him and his supporters to wait for the final tally.

"Basescu is wrong to incite people with his statements, and he should have the necessary decency to wait for the count to see what the decision of the people is and then hail it," Iliescu said.

The first round of voting was marred by accusations of fraud from the opposition and non-governmental organizations. The ruling Social Democrats say there were only minor irregularities, and they accuse Basescu of damaging Romania's image abroad with the allegations.

"The atmosphere of mistrust (over the results) is because the ruling party has despised the state institutions for the last four years and tried to subordinate them," Basescu said, referring to the courts and the Central Electoral Bureau.

Nevertheless, he added, "We trust the state institutions in counting the vote."

One exit poll, carried out by Insomar/Metro Media, gave each candidate 50 percent. The other, done by the Center for Urban and Regional Sociology, at first gave Nastase 50.7 percent to Basescu's 49.3 percent but was updated to show both men with 50 percent.

Opponents see Nastase's party as linked to the old-guard communists who reinvented themselves as champions of democracy after the 1989 revolt and execution of former dictator Nicolae Ceausescu.

Both candidates support EU membership. Nastase takes credit for the completion of membership talks and this year's 8.1 percent economic growth.

The winner of the runoff will nominate the future government. In the parliamentary elections, Nastase's party won 189 of 469 seats, while Basescu's Alliance took 161 seats.

Neither candidate has enough seats to form a majority government. Nastase's party says it wants to form a coalition government with support of an ethnic Hungarian party.




Today's Top News
Top World News

Taiwan separatist's plan goes nowhere




Yushchenko says authorities poisoned him




Textile limits imposed to ease trade concerns




15 killed in Philippines market blast




Human rights situation improved in China




Road accidents kill 96,870 this year