Yushchenko says authorities poisoned him
(Agencies)
Updated: 2004-12-13 09:25
Opposition leader Viktor Yushchenko said on Sunday he was certain Ukraine's authorities had poisoned him with dioxin and hoped prosecutors would establish the truth after this month's re-run of a rigged presidential election.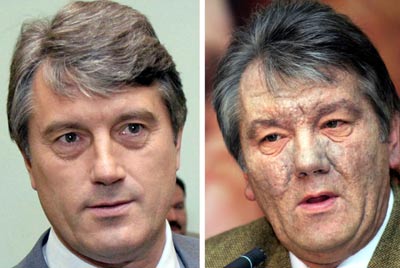 Ukrainian opposition presidential candidate Viktor Yushchenko answers journalists'questions as he arrives at Vienna's Rudolfinerhaus hospital for medical treatment, December 10, 2004. [Reuters]
Speaking to reporters on his return to Kiev a day after Austrian doctors established he had been poisoned, Yushchenko said he did not want the case to affect campaigning for his new run-off against Prime Minister Viktor Yanukovich on Dec. 26.
Yushchenko, who drew vast crowds into the streets to back charges of vote-rigging, welcomed prosecutors reopening a case into what he has long said was a bid to kill him. Though in good physical form, his face remains bloated and pocked.
"I am convinced that this is the work of the authorities, absolutely convinced," Yushchenko said at Kiev airport.
"Time is now needed for the investigation. A lot of the circumstances are already known. I think if the general prosecutor acts according to Ukraine's laws, both the country and the world at large will soon know who did this."
He declined to comment further on who exactly lay behind the poisoning or where it might have originated, saying it was up to judges and prosecutors to establish the facts.
Senior Ukrainian officials, including Kuchma, have yet to comment on the poisoning revelations.
Yanukovich was initially declared the winner of the Nov. 21 run-off poll, during which he was backed by outgoing president Leonid Kuchma and Russian President Vladimir Putin. The Supreme Court annulled the result on grounds of mass fraud.
Yanukovich has since turned on his mentor Kuchma, accusing him of doing nothing to stop the "orange coup" -- mass protests by orange-clad Yushchenko supporters.
No Effect on Campaign
Yushchenko said he wanted the case to be pursued after the new run-off as he did not want it to have "any moral or ethical effect, positive or negative, on the election campaign."
Ukrainian media said prosecutors reopened the case after doctors at the Vienna clinic confirmed dioxin poisoning. The case was launched after Yushchenko first underwent treatment in September but was later closed.
Yushchenko had earlier told reporters in Vienna he was "happy to be alive." And he predicted that "the regime that was in place for 14 years in Ukraine is now living its last days."
Yushchenko likened Ukraine's upheaval after the now-discredited election to the fall of the Soviet Union or the Berlin wall. Thousands of his supporters brought Kiev to a virtual halt for more than two weeks to demand a new poll.
"We had not seen anything like that for the past 100 years. I believe it would be appropriate to compare this to the fall of the Soviet Union or the fall of the Berlin wall," he said.
Doctors at the Rudolfinerhaus clinic said on Saturday that Yushchenko had been the victim of dioxin poisoning but were unable to say whether it was the result of a deliberate act.
Yanukovich, who campaigned over the weekend in his native eastern Ukraine, said before doctors released their conclusions that he knew nothing about why his rival had fallen ill.
"He certainly is ill and I sympathize. Let him get well soon. As for the reasons, I know nothing. Let the specialists work on that," he said in the mining town of Luhansk.
Dr Michael Zimpfer, president of the Rudolfinerhaus clinic, said if the poisoning had been deliberate, dioxin may have been chosen because of the difficulty of detecting it.
"Until recently there was no blood test for dioxin. This may be one of the reasons why this kind of poison, if it was a criminal act, was chosen," he said. "We detected blood levels (of dioxin) at least 1,000-fold above tolerable levels."
Zimfper described Yushchenko's case as closed.
Today's Top News
Top World News

Taiwan separatist's plan goes nowhere




Yushchenko says authorities poisoned him




Textile limits imposed to ease trade concerns




15 killed in Philippines market blast




Human rights situation improved in China




Road accidents kill 96,870 this year