U.S. steps up pressure for IAEA chief's departure
(Agencies)
Updated: 2004-12-13 09:17
The Bush administration on Sunday stepped up pressure on International Atomic Energy Agency chief Mohamed ElBaradei to leave his post, amid reports that U.S. officials were scrutinizing his telephone calls with Iranian diplomats.
The White House reiterated its support for a term-limit for U.N. organization chiefs that would require the 62-year-old Egyptian diplomat to step down as head the IAEA when his second term expires next year.
"The United States government has always supported the policy that heads of U.N. organizations should stay no more than two terms," said White House spokeswoman Suzy DeFrancis.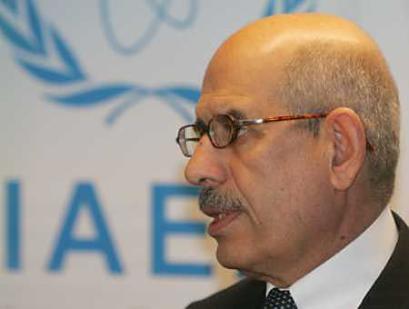 The Bush administration is scrutinizing intercepted telephone conversations that International Atomic Energy Agency chief Mohamed ElBaradei had with Iranian diplomats in search of ammunition to oust him from his post, The Washington Post reported on December 12, 2004. The newspaper said it showed the lengths to which some in the administration are going to try to replace a top international diplomat who questioned Washington's actions in Iraq and on the Iran nuclear issue. ElBaradei is seen in Vienna November 26. [Reuters/file]

She was responding to a Washington Post report that U.S. officials were combing through intercepted phone conversations between ElBaradei and Iranian diplomats for evidence of missteps that could be used to force his ouster.

DeFrancis declined to respond to accusations of eavesdropping, saying she could not comment on intelligence matters.

ElBaradei, who has run the U.N. watchdog agency since 1997, angered members of the Bush administration by questioning U.S. intelligence on Iraq and later by adopting a cautious approach to Iran's nuclear program.

He was appointed to a second term in September 2001 and has been asked to stay on for a third term by members of the IAEA board.

Experts said the Bush administration has been pressing for ElBaradei to observe the two-term limit for months and now appears to be intensifying pressure to oust him.

"The two-term argument has not worked, and there appears to me to be an effort by someone in the administration to pursue another route," said Daryl Kimball, executive director of the Arms Control Association, a private Washington-based arms control policy group.

"What would the impact of such a change be on very urgent problems having to do with North Korea, Iran and the A.Q. Khan network? It appears to me that some in the Bush administration are simply seeking retribution," he added.

The Washington Post report, sourced to three unnamed U.S. government officials, said intercepted phone conversations had produced no evidence of nefarious conduct by ElBaradei.

But it said some within the administration believe the conversations show ElBaradei lacks impartiality because he tried to help Iran to navigate a diplomatic crisis over its nuclear programs.

Others say the transcripts exhibit standard telephone diplomacy, the Post said.

A CIA spokesperson declined to comment on the Washington Post's account, as did a spokeswoman for the State Department.

The United States accuses Tehran of seeking to develop nuclear weapons under cover of its atomic energy program. Iran denies the charge.

While Tehran agreed to suspend uranium enrichment activities last month under international pressure, it insists the suspension is temporary.

The newspaper said the United States had been canvassing for possible candidates to replace ElBaradei, but had yet to settle on one ahead of a Dec. 31 deadline.




Today's Top News
Top World News

Taiwan separatist's plan goes nowhere




Yushchenko calls for probe into poisoning




Textile limits imposed to ease trade concerns




15 killed in Philippines market blast




Human rights situation improved in China




Road accidents kill 96,870 this year