Abbas set to win Palestinian vote, Barghouthi drops out
(Agencies)
Updated: 2004-12-13 08:43
Moderate Palestinian leader Mahmoud Abbas's chances of winning a presidential election to replace Yasser Arafat appeared to be sealed after his main rival Marwan Barghouthi pulled out of the race.
But hopes of Middle East peace, raised since Arafat's death in Paris on Nov. 11, suffered a blow when militants burrowed under an Israeli post on the Gaza-Egypt border to kill four soldiers in the deadliest attack on the army for seven months.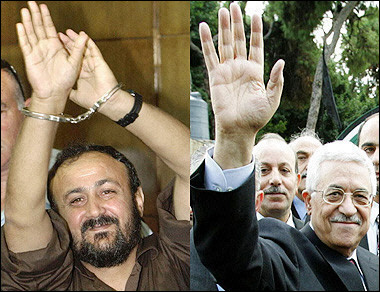 A composite picture shows jailed Fatah leader Marwan Barghuti (L) and Palestine Liberation Organization (PLO) Chief Mahmud Abbas. Barghuti announced that he is withdrawing from the contest to become the next president of the Palestinian Authority, confirming his support for Abu Mazen (Mahmud Abbas) for the position. [AFP]

The militants set off 1,500 kg of explosives in a tunnel dug under the army post, turning some buildings into a pile of rubble and setting others on fire.

The militant Islamic group Hamas and an armed group in Fatah claimed responsibility for the multi-pronged attack at the Rafah crossing to Egypt in which gunmen charged at wounded soldiers as militants in Rafah pounded the army post with mortar bombs.

The assault could also complicate Israeli Prime Minister Ariel Sharon's plan to abandon occupied Gaza in 2005 just as it gained momentum with talks on a new coalition to see it through. Abbas became the clear front-runner in January's election after Barghouthi gave into pressure from Fatah to pull out of the race to allow its own candidate, Abbas, to replace Arafat who died of an undisclosed illness at a French hospital.

Barghouthi's withdrawal from the race ended a bid that threatened to undermine Abbas, a U.S.-favored veteran leader who is expected to revive talks that foundered before the uprising started in 2000.

In the letter from his cell to announce that he was withdrawing, Barghouthi called Abbas "a dear and good friend."

Barghouthi, a charismatic grassroots leader serving five life terms in an Israeli prison for orchestrating attacks, had more street appeal than Abbas, the official nominee of their Fatah movement. The two were neck-and-neck in polls.

Even if Barghouthi had failed to win, a good enough showing could have discredited Abbas - especially when it came to trying to end violence and bring the militant factions under control.

RESURGENT VIOLENCE

One of the gunmen in Sunday's attack in the Gaza Strip as well as a Palestinian man in Rafah were killed during an hours-long gun battle that raged after the initial blast.

The Fatah Hawks militant group said it was avenging the "assassination" of Arafat, who is thought by many Palestinians to have been poisoned despite vehement denials from their own leaders and French doctors.

The violence looked set to fuel a new round of bloodshed after a spell of relative calm after Arafat's death.

"The only way to stop this cycle of violence is through a meaningful peace process," said Palestinian cabinet minister Saeb Erekat.

Israel has vowed to respond to violence, but said it could limit military operations if militants stop attacks and the new Palestinian leadership brings fighters under control.

"We are willing to display restraint, but I think it also puts a great pressure on the Palestinian leadership to take the necessary steps," said Sharon's spokesman Raanan Gissin.

Israel agreed on Sunday to free up to 200 Palestinian prisoners, partly to show goodwill ahead of the elections, and said more releases could follow if violence stopped.

Gissin said Israel could also coordinate its "disengagement plan" from Gaza if Palestinian leaders get tough on militants.

Palestinians remain deeply uneasy about Sharon's initiative, fearing it will cost them the West Bank. Palestinians want both territories captured in the 1967 Middle East war for a state.

Sharon wants to evacuate all the settlements in the Gaza Strip and four of 120 in the West Bank next year in a bid to "disengage" from fighting with the Palestinians. Polls show most Israelis want to part with impoverished Gaza.




Today's Top News
Top World News

Taiwan separatist's plan goes nowhere




Yushchenko calls for probe into poisoning




Textile limits imposed to ease trade concerns




15 killed in Philippines market blast




Human rights situation improved in China




Road accidents kill 96,870 this year