Yushchenko calls for probe into poisoning
(Agencies)
Updated: 2004-12-12 23:37
Ukrainian presidential candidate Viktor Yushchenko called for an investigation into who poisoned him with dioxin but said Sunday it should wait until after this month's presidential run-off, as he checked out of a Vienna clinic where the poisoning was diagnosed.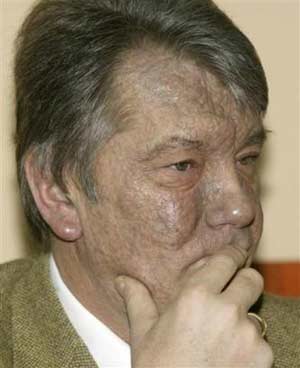 Ukrainian presidential candidate Viktor Yushchenko listens to a journalist's question during a press conference at the private Viennese clinic Rudolfinerhaus, on Sunday, Dec. 12, 2004, where doctors found out that his mysterious illness was caused by dioxin poisoning. [AP Photo]
Doctors at the clinic called the poisoning potentially a "criminal case" but OK'd Yushchenko's return to the campaign trail.
The opposition leader is facing a new runoff vote on Dec. 26, ordered by Ukraine's Supreme Court, which ruled that results that named Prime Minister Viktor Yanukovych the winner in the initial vote on Nov. 21 were tainted by fraud.
Yushchenko fell ill Sept. 5 and had been treated at Vienna's elite Rudolfiner clinic twice before, but it was tests performed since he checked in Friday night that provided conclusive evidence that he had been poisoned, said hospital director Dr. Michael Zimpfer.
Wearing his trademark orange campaign scarf, Yushchenko flashed the peace sign out of the window of his car before driving off from the clinic. He was expected to fly back to Kiev later in the day.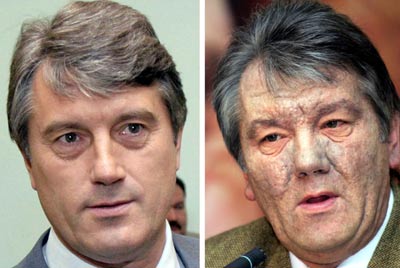 Ukrainian opposition presidential candidate Viktor Yushchenko answers journalists'questions as he arrives at Vienna's Rudolfinerhaus hospital for medical treatment, December 10, 2004. [Reuters]
Yushchenko has accused Ukrainian authorities of poisoning him, but told reporters he does not want to talk further about the allegation until after the runoff vote has been rerun on Dec. 26.
"I don't want this factor to influence the election in some way ¡ª either as a plus or a minus," he said, "This question will require a great deal of time and serious investigation. Let us do it after the election ¡ª today is not the moment."
Doctors said had the dose of dioxin been greater, it could have been fatal but that he is now getting better and can return to the campaign trail.
"We can confirm that his health is very good at this moment and he can do his job," Nikolai Korpan, the physician who has been treating Yushchenko.
Among other things, Dioxin is known to cause cancer, Korpan said it is too early to tell what other problems might develop. The toxic chemical is a byproduct of industrial processes such as waste incineration and chemical and pesticide manufacturing.
Zimpfer, the hospital director, said tests showed the toxin was taken orally, and was likely slipped into something that Yushchenko ate or drank.
"This is the first case internationally where the intake has been oral, usually it's inhaled, it's very different," he said.
Given the sensitivity of the case, Zimpfer said his clinic wanted to be absolutely sure before making any sort of announcement.
"We are not dealing with simple pimples, we are dealing with a poisoning and the suspicion of third party involvement, so potentially a criminal case," he said.
After doctors confirmed that he was a victim of poisoning, Yanukovych campaigners rejected suggestions that the prime minister could have been involved.
There is "no logic in such an accusation," said Taras Chornovyl, Yanukovych's campaign manager.
The massive quantities of dioxin found in Yushchenko's system caused chloracne, a type of adult acne caused by exposure to toxic chemicals. The condition is treatable, but can take two to three years to heal.
Zimpfer said the treatment will be "difficult and long."
Yushchenko thanked the medical staff who determined he had been poisoned, which left his once-handsome face pocked and gray.
"They've spent many days and nights with me and I am very happy to be alive in this world today," Yushchenko said.
Yushchenko praised the demonstrators who have filled Kiev streets in his support. "I am very happy that we were able to mobilize the Ukrainian community to stand up for its rights," he said.
"We haven't seen anything like that for the past 100 years," he said. "I think it would be appropriate to compare this to the fall of the Soviet Union or the fall of the Berlin Wall."
Before he left the clinic, a choir of a dozen young girls sang the Ukrainian national anthem for hiim. Yhiushchenko hugged them after their performance.
Yushchenko's wife Kateryna Chumachenko said Saturday that she and her husband had received threats and she had been convinced from the start that he was poisoned.
A lab in Amsterdam, using a newly developed test, found his blood contained more than 1,000 times the normal amount of dioxin, Zimpfer said.
Tension in Ukraine's political crisis has eased with parliament's adoption of the electoral changes aimed at preventing fraud in return for handing over some presidential powers to the parliament.
Yushchenko wants to move his former Soviet republic closer to the West politically and is largely backed by the Ukrainian-speakers who want to end what they say has been mass corruption during the previous decade.
The pro-Kremlin Yanukovych, who had been backed by outgoing President Leonid Kuchma and Russian leader Vladimir Putin, draws his strength from the Russian-speaking, industrial east, which accounts for one-sixth of Ukraine's population of 48 million.
Today's Top News
Top World News

Taiwan separatist's plan goes nowhere




Yushchenko calls for probe into poisoning




Textile limits imposed to ease trade concerns




15 killed in Philippines market blast




Human rights situation improved in China




Road accidents kill 96,870 this year