Local legislative vote a slap on Taiwan separation
By Xing Zhigang (China Daily)
Updated: 2004-12-12 23:29
Saturday's "legislative" elections in China's Taiwan Province were crucial not only to the island's politics but also to cross-Straits relations.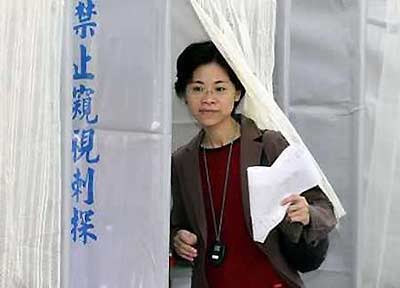 A voter leaves a voting booth, after casting her vote in the "legislative" elections, in Taipei on Saturday. The pan-green camp's failure to win a majority at the "parliament" fully demonstrated the unpopularity of Chen Shui-bian's policies. [Reuters]
Taiwan leader Chen Shui-bian had intended to reap the biggest gains from the polls.
His hopes, however, were shattered by the election results.
Before the election, Chen's pan-green camp of ruling Democratic Progressive Party (DPP) and Taiwan Solidarity Union strived to to increase its influence in the 225-seat "parliament" and even wrest an absolute majority.
Chen had repeatedly promised to use control of the "Legislative Yuan" to facilitate his pro-independence push.
Since Chen rose to power in May 2000 and was re-elected in March, he has done nothing to improve cross-Straits ties because of his pro-independence stance.
However, Chen's camp was defeated by the opposition coalition of Kuomintang (KMT), People First Party and New Party in the "legislative" elections.
Li Jiaquan, a senior researcher with the Institute of Taiwan Studies under the Chinese Academy of Social Sciences, says Saturday's poll results fully demonstrated the unpopularity of Chen's policy.
He adds that the leader's insistence on a separatist stance goes against the Taiwanese people's common aspiration for cross-Straits peace and stability.
Though the opposition can take advantage of its victory to check and balance the pan-green camp, experts believe that Chen still has the executive power to introduce pro-independence policies.
Li warns that Chen could still force through his separatist plans despite his failure to control the local legislature.
"Cross-Straits ties may become more unstable if Chen keeps pushing his separatist agenda," Li says.
Before the "legislative" polls, Chen had pledged a referendum on "constitutional" changes in 2006, with the new "constitution" taking effect in May 2008, when his second term ends.
Although Chen has argued that the changes would not relate to issues of "sovereignty," the "constitutional" reform is widely seen as a move to promote a de jure Taiwan independence.
In fact, Chen announced on December 5 a two-year timetable to drop the word "China" from the names of all relevant government agencies and government-controlled enterprises in favour of "Taiwan."
Liu Guoshen, president of the Taiwan Research Academy of Xiamen University, says: "These radical separatist steps were introduced both as voting strategy to woo pro-independence voters and as concrete moves to edge the island closer towards independence."
"Chen has been bent on de-sinifying the island, regardless of what it will cost the island and Taiwanese people."
Resistance from within
Chen's name change proposal has drawn widespread criticism from within the island.
A number of government-run enterprises on the island fear huge economic losses if they are forced to drop "China" from their corporate names in favour of "Taiwan."
The name change would, for one thing, incur sky-high rebranding costs for some of Taiwan's flagship companies -- from China Airlines Ltd (CAL) to China Steel Corp and Chinese Petroleum Corp.
"We would have to budget about T$300 million (US$9 million) to promote our new brand every year," said a spokesman for government-owned refiner Chinese Petroleum Corp.
"It would take us three years to do it and cost us around T$1 billion (US$31 million)."
CAL chairman Chiang Yao-chung reportedly said his company will suffer problems in aviation rights once it changes its name.
"That is, our planes may be barred from flying to their current destinations because we used this name to sign bilateral flight agreements," he was quoted by local media as saying.
The second problem is contracts with the airline's lenders and code-share partners, which would trigger legal issues, he said.
"These are problems that are very difficult to resolve, so we'll maintain the status quo at this point," Chiang said.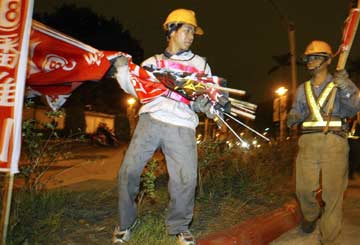 Workers remove campaign banners in Taipei on Saturday night after the election wrapped up with the pan-blue camp taking the majority of the "legislative" seats.[Reuters]
Staff union of CAL said it feared a name change would even cost the airline.
"If we change the name due to political factors and end up losing air rights, especially the golden Taipei-Hong Kong route, then our losses will be very large," said Lee Cho-ping, leader of China Airlines' 10,000-member union.
China Shipbuilding has estimated that making such a change would require it to amend more than 100 contracts, with the accompanying expense.
T.H. Chen, vice-president at China Steel, has described the name change as "a very, very serious matter."
"China Steel is already broadly recognized by the international steel industry. If now we change to another name, I think it will take time to get used to it," he was quoted as saying.
Many Taiwan companies have "China" in their names as the island's formal title is "Republic of China (ROC)" -- which dates back to 1949 when the Kuomintang (KMT) regime fled to the island after losing the civil war.
The DPP administration led by Chen, however, has been attempting to promote a separate Taiwanese identity different from China through the use of "Taiwan" in as many arenas as possible.
Reactions from Washington
Chen's political moves have also met with strong opposition from the United States.
After Chen proposed his timetable for writing a "constitution," US State Department spokesman Richard Boucher pointed out on November 29 that Washington is opposed to any referendum that would change Taiwan's status or move towards independence.
"Our primary interest is in maintaining stability across the Taiwan Straits, and the United States is opposed to any unilateral steps that would change the status quo," he told a regular press briefing.
To underline his serious attitude towards the issue, Boucher even reiterated, word for word, Chen's promises given in his 2000 inaugural speech and reaffirmed by the leader this year.
Chen pledged not to declare independence, change the name of ROC, add the state-to-state theory to the "constitution" or promote a referendum to change the status quo on independence or reunification.
"We take those reaffirmations and that pledge very seriously, particularly as they apply to this referendum on a new 'constitution'," Boucher said.
As for whether Chen's new "constitution" will violate these promises, Boucher indicated that Chen should clarify that himself.
About one week later, Washington again criticized Chen for his name change proposal.
"These changes of terminology for government-controlled enterprises or economic and cultural offices abroad, in our view, would appear to unilaterally change Taiwan's status," said State Department deputy spokesman Adma Ereli on December 6.
"For that reason, we're not supportive of them."
"The United States has an interest in maintaining stability of the Taiwan Straits," Ereli asserted.
"And we are, therefore, opposed to any unilateral steps that would change the status quo."
Washington's statements signalled the concern in the United States over this radical separatist steps, said Liu Hong, a researcher with the Institute of Taiwan Studies.
"Given Chen's obstinate push for formal independence over the past four years, the United States has begun to feel the looming danger from his new separatist schemes," he said.
If Chen is allowed to continue with his pro-independence pursuit, Washington fears that it would be dragged into a cross-Straits military conflict, which does not conform to the US national interests.
The US worry has actually been expressed by President George W. Bush in his meeting with Chinese President Hu Jintao on the sidelines of the 12th Asia Pacific Economic Co-operation Leaders Meeting in Santiago, Chile.
Bush said on November 20 that the United States understands the sensitivity of the Taiwan problem and that it will stick to the one-China policy while abiding by the three Sino-US joint communiques.
The US side will oppose any words or deeds to unilaterally alter the status quo and declare "independence," and give no inconsistent signals to Taiwan authorities, he added.
The remarks of President Bush contrasted with his pledge to do whatever it takes to defend Taiwan in the early years of his first presidential term.
"The drastic shift in the US attitude has indicated that Washington has seen through Chen's nature as a person without credibility," Liu said.
Huge risks
Xie Yu, another researcher with the Institute of Taiwan Studies, goes further to say that Chen's rebranding plan is doomed to failure because it violates the one-China policy recognized by the international community.
"Chen has ignored the historical and political reality facing the island and underestimated the firm stance held by most of countries in the world on the one-China principle," the researcher says.
"There is no way for him to break the one-China framework, no matter what attempts he may make."
At present, the Government of the People's Republic of China is recognized by 192 nations as the sole legitimate government of China.
These countries also respect China's territorial integrity and recognizes that Taiwan is an inseparable part of China.
By consolidating his political power on the island, Chen believed he could force the Chinese mainland to deal with him.
"Even if his camp had won, Beijing would still not compromise its one-China principle to talk to Chen Shui-bian," Li Jiaquan says.
Beijing has ruled out any talks with Chen as long as the leader does not accept the one-China principle that both Taiwan and the mainland are part of China.
Xie cautioned that Chen's stubbornness may prompt the mainland to take more resolute measures to curb his pro-independence moves.
"Chen's political near-sightedness would cost Taiwan the opportunity to strive for an economic recovery," she said.
If the leader continues to be tied by political ideology, Taiwan's economy may risk being further marginalized as all other countries and regions in Asia are going all out to develop their economy.
The island, one of Asia's "four little dragons," has been battling economic woes since the Asian financial crisis in 1998.
After Chen took power in May 2000, his administration has been concentrating on political struggles with the opposition and within the ruling party while doing little to revive the island's economy.
Chen's pro-independence policies have also led to deep ethnic conflicts and social chaos on the island.
Today's Top News
Top China News

Local legislative vote a slap on Taiwan separation




Yushchenko says authorities poisoned him




Textile limits imposed to ease trade concerns




15 killed in Philippines market blast




Human rights situation improved in China




Road accidents kill 96,870 this year