Court clears Berlusconi of corruption
(Agencies )
Updated: 2004-12-11 09:10
Italian Prime Minister Silvio Berlusconi escaped a potentially devastating jail sentence when a Milan court cleared him of corruption charges after a four-year trial, a verdict which he hailed as "better late than never".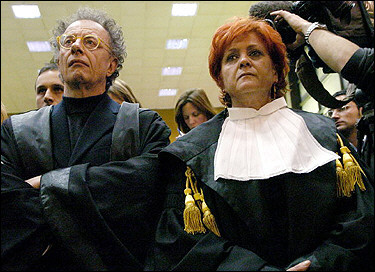 State prosecutors Gherardo Colombo (L) and Ilda Boccassini listen to court chairman Francesco Castellano as he reads the judgement after Milan's court quashed corruption charges against Italian Prime Mister Silvio Berlusconi. [AFP]


In a two-part judgement read out to a packed courtroom by the court chairman Francesco Castellano, Berlusconi was cleared of bribery in blocking the sale of the SME food group to a rival in 1985, and given the statute of limitations on the charges of keeping a judge on his payroll, which date from 1991.

The 68-year-old prime minister was triumphant after avoiding a jail sentence in his latest brush with the courts, telling reporters in Rome the verdict was "better late than never".

"I was right to be calm because I knew full well I had done nothing wrong," he said.

Prosecutors had demanded the court impose the maximum eight-year jail sentence for bribing judges to block a 1985 sale of state-owned food company SME to his rival Carlo De Benedetti, boss of Italian food giant Buitoni.

He was cleared of that charge, but Berlusconi's lawyer Gaetano Pecorella said he would appeal the statute of limitations ruling on the second because it did not fully clear his client.

The verdict had left Berlusconi lingering "at the doors of justice", Percorella told reporters. "I'm sure the appeals court will clear him fully."

The statute of limitations -- meaning the prescribed period of time in which the case could be brought had run out -- was applied because the court decided to halve the period of the original statute of limitations from 15 years. The 1991 date thus fell outside the ambit of the case.

In doing so it rejected prosecution demands that it not apply the "mitigating circumstances" which can be allowed to an Italian citizens with a clean police record.

It leaves hanging the possibility that Berlusconi would be facing a jail sentence had they not.

Instead the verdict provides Berlusconi with a timely political boost, leaving him free to turn a political rally of his Forza Italia party in Venice on Saturday into a massive victory party.

A rival rally of the centre-left opposition coalition in Milan, marking former EU Commission president Romano Prodi's return to the political fray, is likely to be subdued by comparison.

"It's a verdict which is largely satisfactory, which brings to an end a 10-year case which has been shown to be substantially useless," another member of Berlusconi's legal team, Niccolo Ghedini, said.

"It's a verdict which gives justice to Silvio Berlusconi. I hope it will help bring about a calmer and less confrontational climate between politics and the judiciary," said Deputy Prime Minister Marco Follini, a member of the Christian Democract UDC party in Berlusconi's centre-right coalition.

Several of Berlusconi's co-accused, including his close confidant Cesare Previti and prominent judge Renato Squillante, received lengthy jail sentences in a separate trial last year, but have appealed.

The trials were split so as not to interfere with Berluconi's commitments as prime minister.

Although the 68-year-old media magnate has faced a string of trials focusing on his business dealings, in most cases he has escaped conviction, either by being acquitted or having his convictions overturned on appeal.

He previously profited from the statute of limitations in another judge-bribing case involving his purchase of Italian publishing house Mondadori, against after a bitter battle with his business rival Carlo De Benedetti.

Previti was found guilty in 1995 of bribing a judge to ease the buy-out by Berlusconi's Fininvest, and given an 11-year jail sentence which he is appealing.

Charges against Berlusconi in the same case were quashed by the Supreme Court because time had run out to try him.




Today's Top News
Top World News

China concerns Japan's overhaul of defense policy




SAFE: Country not reducing US dollar holdings




China fills top sports post for Olympics




Coal mine blast kills 33 in Shanxi




Watchdog: CAO made 'wrong' decisions




Betting on renminbi's appreciation banned