Ships gather to clean up oil spill
(China Daily)
Updated: 2004-12-10 00:37
A team of seventeen ships has been assembled to clean up the part of the Pearl River that remains contaminated after an oil spill on Tuesday.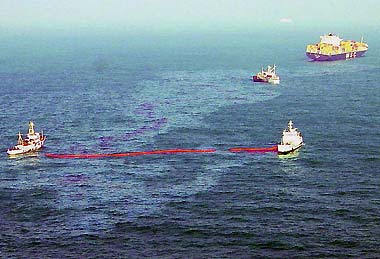 Maritime ships are busy controlling the oil from spreading. [newsphoto]

Sources with the Ministry of Communications said more help was on the way to the site in South China's Guangdong Province.

The oil is being forced out to sea by the wind, meaning shore areas have been largely untouched, the sources said.

The oil slick currently forms a 17-kilometre-long and 20 to 200-metre-wide belt at the mouth of the Pearl River.

Two foreign ships, one registered in Panama and the other in Germany, collided at 9:35 pm on Tuesday.

The Panamanian ship was sailing from Shenzhen to Singapore and the German vessel was bound for Shanghai from Shenzhen.

A fuel storehouse of the German ship broke in the collision and started leaking crude oil.

It is the biggest ever spill in Chinese waters, said Wang Xiangtao, director of the Guangdong Provincial Marine Bureau.

The two ships are not in the danger of sinking and no one was hurt in the accident, the sources said.

The ministry has been monitoring the progress of the oil and trying to stop it floating to islands.

Experts have been invited to put forward plans for the cleanup to keep damage to a minimum.

Xu Zuyuan, vice-minister of communications, has urged all relevant departments to do what they can to prevent the pollution from extending to neighbouring Hong Kong and Macao waters.




Today's Top News
Top China News

China concerns Japan's overhaul of defense policy




SAFE: Country not reducing US dollar holdings




Coal mine blast kills 33 in Shanxi




Watchdog: CAO made wrong decisions'




Betting on renminbi's appreciation banned




Traffic situation better in capital