Traffic situation better in capital
By Liu Li (China Daily)
Updated: 2004-12-10 00:37
A top communications official with the Beijing municipal government yesterday vowed that traffic conditions during the 29th Olympic Games, which will be held in the capital in 2008, would be favourable.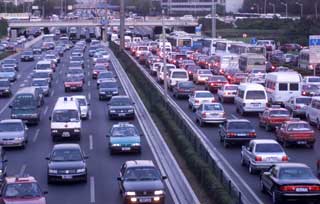 Traffic congestion on Beijing's third ring road is shown in this October 22, 2003 file photo. [newsphoto]


"To achieve the goal, Beijing has this year accelerated construction of road networks and the public transportation system," Liu Xiaoming, vice-director of the Beijing Municipal Commission of Communications said yesterday at a press conference.

He also told China Daily that Beijing will not adopt policies to restrict the amount of private cars.

Privately-owned cars account for over 60 per cent of the current 2.27 million motor vehicles in Beijing, sources said.

"Although the amount of cars has continued to rise, traffic congestion in urban Beijing was not worse this year," Liu said.

According to statistics provided by the transport management authority, the traffic handling capabilities of urban Beijing within the Fourth Ring Road have been enhanced this year.

The amount of vehicles and people passing through the area within a fixed time period grew by 15 per cent compared with last year's figure.

"But people are still experiencing traffic jams as the amount of vehicles increases together with the growth of the road network," he said.

The amount of motor vehicles in Beijing witnessed an increase of 166,000 this year, sources said.

"The local government will instruct private car owners to use their vehicles more scientifically," he said.

For example, the municipal communications commission is planning to build parking lots beside major metro stations.

"Those who live outside the Fourth Ring Road are advised to drive to the stations and then transfer to the metro for work," Liu said yesterday.

Public transport, especially the urban railway, has been given priority by the Beijing municipal government to ease traffic congestion.

The total volume of special traffic lanes for buses has reached nearly 104 kilometres, with 11 new kilometres this year.

"We plan to make a network of special bus lanes to encourage more people to use the public transport system," he said.

Meanwhile, a total of 39 new public transport lines have been established and 1,800 new buses have been put into service so far in 2004, according to Liu.

"We aim to increase the number of people choosing public transport means among all traffic methods," Liu said.

According to the official, on average, only 27 per cent of people in Beijing choose to use public transport.

"The figure in some overseas metropolises, such as Paris, London and Tokyo, is much bigger -- 60 per cent or even 80 per cent," he said.

Liu predicted that the proportion in Beijing will reach more than 40 per cent by 2008.

The official pointed out that easing congestion requires a long-term strategy..

"Beijing still faces many traffic problems," he said.




Today's Top News
Top China News

China concerns Japan's overhaul of defense policy




Loosen gov't control of economy




SAFE: Country not reducing US dollar holdings




Coal mine blast kills 33 in Shanxi




Watchdog: CAO made 'wrong' decisions




Betting on renminbi's appreciation banned