Coal mine blast kills 33 in Shanxi
By Jiang Zhuqing (China Daily)
Updated: 2004-12-10 00:37
Thirty-three miners were killed and 24 injured in an explosion at a coal mine in North China's Shanxi Province on Thursday.
Miner Zhang Jiulin managed a lucky escape from a pit of Daxian Colliery in China's major coal producing province.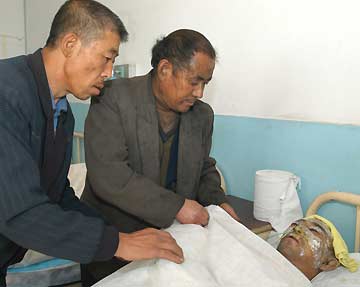 Relatives visit an injured miner at a local hospital in Yangyuan City, North China's Shanxi Province, December 10, 2004. At least 33 people were killed after a gas explosion hit a small coal mine in Yangyuan city Thursday afternoon, when 71 miners were working underground. Twenty-eight miners and five rescuers were killed, while 38 miners were hoisted to the ground. [newsphoto]

"When I saw a heap of coal dust mushrooming upward, I thought that something disastrous must have occurred," said Zhang, who works at Daxian Colliery, a township enterprise in Yuxian County under Shanxi Province's Yangquan.

"It all happened so suddenly that I did not even hear the explosion," said Zhang, who managed to help two gas poisoned colleagues out of the pit during his escape.

The accident occurred at about 4:20 pm when 71 miners were working underground, said Chen Jiguang, vice-mayor of Yangquan. After the explosion, 38 were hoisted from the pit with 24 needing to be hospitalized. Five others remained missing.

Chen said the rescue operation was halted because of thick toxic gas in the shaft shortly after the explosion until 3:00 am Friday when rescue efforts could continue.

By 10 am Friday, all injured miners were in stable conditions after medical treatment, according to Rong Changtai, vice-president of the county's hospital.

A special panel has been set up to investigate the cause of the tragedy, local officials said.

To find all safety loopholes and prevent a re-occurrence of the accident, the city government of Yangquan have ordered all local coal mines -- except Yangquan Coal Industry Group, a large State-owned enterprise -- to stop production for safety checks.

Over the past two months, several serious coal mine accidents, mainly gas explosions, have killed at least 400 miners around the nation, reports said.

Hang Yi, a spokesman from the State Administration of Work Safety, attributed the frequent colliery accidents to enterprises' ignorance of work safety while blindly seeking profits in a booming coal market.

"To many coal mines, whether State-owned or private, safety infrastructures are weak and cannot be updated rapidly enough to meet the increasing demand for coal in recent years," Huang told China Daily.

Spot inspections should focus on the implementation of safety measures and efforts need to be made to guarantee the pumping of dangerous gas from the pits before digging coal, he said.




Today's Top News
Top China News

China concerns Japan's overhaul of defense policy




SAFE: Country not reducing US dollar holdings




Coal mine blast kills 33 in Shanxi




Watchdog: CAO made wrong decisions'




Betting on renminbi's appreciation banned




Traffic situation better in capital