Bike bomb kills at least 10 in Pakistan
(Agencies)
Updated: 2004-12-10 23:12
QUETTA, Pakistan - A bomb strapped to a bicycle exploded Friday next to an army truck parked at a crowded outdoor market in southwestern Pakistan, killing at least 10 people and wounding 27 others, police said.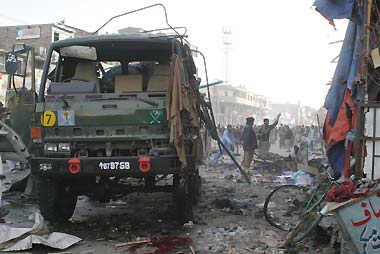 A damaged army truck is seen at the scene of a bomb blast in Quetta December 10, 2004. At least ten people were killed and more than 20 wounded on Friday when a powerful bomb exploded near an army truck in Pakistan's south western city of Quetta in the latest incident of terrorism. [Reuters]


The time bomb, weighing about 22-27 pounds, went off around 4 p.m. in Quetta, the main city in Baluchistan province, said police chief Rehmat Ullah.


No one immediately claimed responsibility.


President Gen. Pervez Musharraf said the blast was perpetrated by people "working against peace and development in the country," and called on security agencies to capture those responsible. Quetta Mayor Rahim Kakar blamed "nationalists who don't want to see progress in Baluchistan."


The dead included one soldier and nine vendors and passers-by, senior police official Pervez Bhatti told Pakistan's private Geo television. Several of the 27 injured people were in critical condition, he said.


At least four vehicles were destroyed by the blast, which blew out windows in nearby buildings. The injured were frantically loaded into ambulances as investigators inspected the site.


Baluchistan has been hit by a series of low-level bombings in recent years, most of which did not cause any casualties and have been blamed on feuding tribesmen. However, there are signs the region has become a base for Taliban and al-Qaida-linked militants.


On Dec. 1, police and intelligence agents exchanged fire with two suspected Chechen militants hiding in a home on the outskirts of Quetta. One militant died and the other was arrested. Eleven policemen were injured when the militants hurled grenades during the raid.


The city has also been rocked by sectarian violence.


In March, suspected Sunni militants fired at a Shiite procession in Quetta, killing 44 people and wounding 150. And in 2003, attackers with machine guns and grenades stormed a Shiite mosque in the city, killing 50 people praying inside.


Other small-scale explosions have been blamed on nationalists who oppose setting up new army garrisons in the province and are trying to pressure authorities to get more returns from gas extracted from their region.


A little-known group, The Baluchistan National Army, has claimed responsibility for some of the previous attacks.


Since July, Pakistani authorities have rounded up dozens of terror suspects around the country, even as it wages a military campaign against militants along its lawless border with Afghanistan.


The counterterrorism efforts by Musharraf, who returned two days ago from a major overseas trip, have made him a key ally of the West against religious extremism, but have drawn criticism at home from those uneasy over his strong ties with Washington.







Today's Top News
Top World News

China concerns Japan's overhaul of defense policy




SAFE: Country not reducing US dollar holdings




Coal mine blast kills 33 in Shanxi




Watchdog: CAO made wrong decisions'




Betting on renminbi's appreciation banned




Traffic situation better in capital