Japan to export arms for missile shield
(Agencies)
Updated: 2004-12-10 15:55
Japan has taken another step away from its post-World War II pacifism with the ending of its decades-old ban on military exports and telling defense planners to regard China and North Korea as potential threats.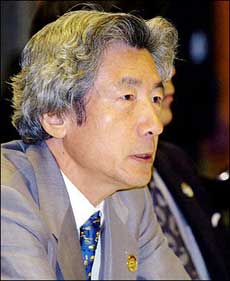 Japanese Prime Minister Junichiro Koizumi. Japan has approved an overhaul of its military policy to allow defense exports to the United States. [AFP]

Prime Minister Junichiro Koizumi's cabinet agreed to allow military sales -- only to the United States and for missile defense -- a day after it extended Japan's ground-breaking troop deployment in Iraq or another year.

The policy change Friday came in the form of a set of guidelines for defense policymakers, updated for the first time in nine years, along with a five-year outline for military procurements set to begin from April 2005.

The guidelines approved by the cabinet said Japan needed to change its mindset to have "multi-function, flexible defense capabilities" to deal with new threats such as terrorist and missile attacks.

A statement by Chief Cabinet Secretary Hiroyuki Hosoda said Japan decided to export missile parts to the United States under "strict controls" to contribute to "the Japan-US security alliance and secure the safety of our country."

Hosoda said any other military exports would be approved on a case-by-case basis. Koizumi on Friday held out the possibility that Japan, which is heavily dependent on oil shipments, could sell arms to Southeast Asian nations to fight piracy.

Hiroshi Okuda, chairman of the country's largest commercial lobby, the Japan Business Federation or Keidanren, hailed the new defense policy, saying Japan was "in the midst of a major turning point."

The constitution imposed by US occupiers after World War II said Japan would forever renounce war. Japan has since produced top-of-the-line equipment which its military -- known as the Self-Defense Forces -- is forbidden to use.

Embracing its pacifist role, Japan in 1967 said it would ban all weapons sales. The self-imposed ban was tightened in 1976 to rule out all military exports.

Tokyo and Washington began to study a missile interception shield after North Korea shocked the world in 1998 by firing a missile over Japan.

But Japan was forbidden from exporting missile components to its close ally because it has had a defense-only security policy since its bitter defeat in World War II.

The new defense outline comes as Japan sees increasing tension with both North Korea and China.

Hosoda played down the symbolism of the guidelines, noting they did not explicitly label China a threat. But he said that due to growing Chinese military and economy strength, Japan "needs to watch China."

The guidelines said: "China, which has a great impact on security in this region, is pushing ahead with enhancing its nuclear and missile capabilities in modernizing its navy and air force while expanding marine activities."

Tomohide Murai, professor of Japan's state-run National Defense Academy and specialist on East Asia security issues, said Beijing "will surely upgrade and modernize its military" as its economy grows.

Bilateral visits have been on hold, with China voicing anger over Koizumi's repeated visits to a Tokyo shrine dedicated to 2.5 million Japanese war dead including seven men hanged for World War II war crimes.

The guidelines said North Korea was "developing, deploying and proliferating weapons of mass destruction and ballistic missiles," describing its military moves as serious, destabilizing factors in the region.

An advisory panel to Koizumi mapping out the defense strategies recommended in October that Japan study acquiring the ability to launch pre-emptive strikes.

But there was no explicit reference to that point in the new outline. Murai said it probably reflected "a lack of debate among people" as well as fear that such a major move would cause unnecessary concern at home and abroad.




Today's Top News
Top World News

Coal mine explosion kills 33 in north China




Market recognition benefits China, EU




Foreign trade tops US$1 trillion




Polluting steel plants moving out of Beijing




Government aims to fatten farmers' wallets




Al Qaeda to attempt major marine attack