Ukraine government back to work as crisis eases
(Agencies)
Updated: 2004-12-10 14:46
Ukraine's civil servants went back to work for the first time in weeks as the opposition lifted its blockade of government buildings and a political crisis eased following a compromise with the ruling regime.
The buses and human chains used by the opposition to block access to government buildings after a disputed presidential vote melted away and state employees were again free to enter their places of work without obstruction.
"I am glad it's over, it was incredibly irritating," said Ivan Volkov, a staffer with the cabinet of ministers.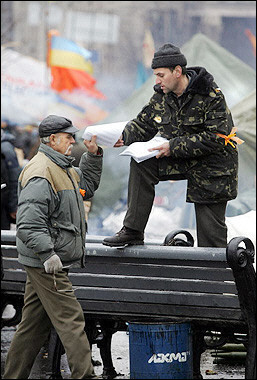 A supporter of Ukraine's pro-West opposition leader Viktor Yushchenko spreads leaflets at the tent camp in downtown Kiev. Ukraine's civil servants went back to work for the first time in weeks Thursday as the opposition lifted its blockade of government buildings and a tense political crisis eased following a compromise with the ruling regime.[AFP]

Opposition leader Viktor Yushchenko called on his supporters to lift the blockades after he struck a compromise with outgoing President Leonid Kuchma, breaking a tense standoff sparked by a contested election on November 21.

The compromise, which smoothed the way for a rerun vote on December 26, was hailed in Ukraine and abroad as a breakthrough in the political crisis that has polarized this strategic nation and fueled Cold War-like rhetoric between Russia and the West.

But on Thursday, Russia and NATO agreed to "work to ensure a free, fair electoral process that reflects the will of the Ukrainian people."

NATO chief Jaap de Hoop Scheffer called it a breakthrough agreement that "shows that this is not and this should not be ... an East-West confrontation, it's not an East-West rivalry."

Meanwhile thousands of Yushchenko supporters who had come to Kiev in the aftermath of a disputed vote packed up to go home.

Mikhailo, an 18-year-old student from the western town of Terebovlya, smoked his last cigarette before climbing onto a bus to take him home.

"I've been here since November 22," he said, adding that he would take his exams and return to Kiev afterwards "to defend the rights of our country."

But others vowed to stay in the tent camps set up in central Kiev to serve as both shelter and a quasi campaign headquarters.

"Yesterday there were fireworks and we claimed victory," said Sergei Semenchenko, a 22-year-old who came to Kiev from the eastern region of Chernigiv. "But we're staying here until the vote."

The compromise that broke the tense standoff between Yushchenko and Kuchma was a bill passed by parliament on Wednesday, which included measures pushed by both the opposition and the outgoing leader.

The opposition got electoral law changes and a new central election commission, measures it saw as vital in preventing fraud from marring the December 26 rerun vote, as had been the case with the November 21 election that was later annulled by the supreme court because of irregularities.

Meanwhile Kuchma got a controversial constitutional amendment that transfers many of the powers of the presidency to parliament.

After more than two weeks of standoff over the election that saw Yushchenko regions refuse to recognize any other president, parliament passed the compromise bill by a crushing majority of 402 to 21 and the chamber erupted in applause as the result appeared on a huge electronic board.

"This is an act of consolidation and reconciliation that proves Ukraine is united and indivisible," parliament speaker Volodymyr Litvin said afterward.

The European Union, which sent mediators three times to aid the negotiations during the standoff, hailed parliament's vote as a breakthrough and US Secretary of State Colin Powell called Kuchma to congratulate him on the vote, according to the Ukrainian presidency.

The compromise is expected to boost Yushchenko's chances of winning the December rerun, but will also weaken the presidency.

The amendment transfers important powers from the presidency to parliament, where opposition forces are now in a minority, and is due to enter into force by January 1, 2006 at the latest.

Under the reforms, the president loses the power to appoint all top posts except for the prime minister, defense and foreign ministers, and his candidates for these three posts need to be approved by legislators as well.




Today's Top News
Top World News

Coal mine explosion kills 33 in north China




Market recognition benefits China, EU




Foreign trade tops US$1 trillion




Polluting steel plants moving out of Beijing




Government aims to fatten farmers' wallets




Al Qaeda to attempt major marine attack