Coal mine explosion kills 33 in north China
(Xinhua/agencies)
Updated: 2004-12-10 12:13
Rescue workers have found the remains of 33 miners killed in a gas explosion taking place Thursday afternoon at a small colliery in Yangyuan City of Shanxi Province, north China, an official said Friday.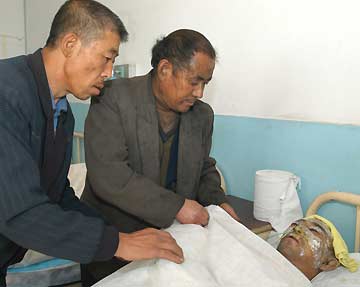 Relatives visit an injured miner at a local hospital in Yangyuan City, North China's Shanxi Province, December 10, 2004. At least 33 people were killed after a gas explosion hit a small coal mine in Yangyuan city Thursday afternoon, when 71 miners were working underground. Twenty-eight miners and five rescuers were killed, while 38 miners were hoisted to the ground. [newsphoto]

Vice-Mayor Chen Jiguang said the rescue operation was halted because of the thick toxic gas down in the shaft shortly after the explosion until 3 a.m. Friday when rescuers could go down again.

The accident occurred at around 4:20 p.m. Thursday in Daxian Sankeng Colliery, when 71 miners were working underground.
After the explosion, 38 of the miners were hoisted to the ground, 28 miners were found dead and five others remained missing.

The coal mine, which produces 150,000 tons of coal a year, was a licensed one, the provincial supervision center of coal mine safety said.

The cause of the accident is under investigation.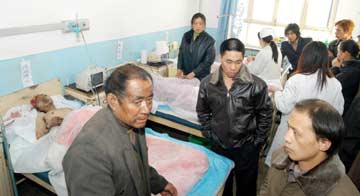 Injured miners are sent to local hospitals for treatment. [newsphoto]
Production halted for safety checks

After Thursday's coal mine gas explosion that killed 33 workers, the authorities of Yangquan City where the mine is located, have ordered all the local coal mines to stop production for checks as of Friday.
The move is aimed to find all hidden safety loopholes and prevent re-occurrence of similar accidents, according to the city government.
Yangquan Coal Industry Group, a large state-owned enterprise in the northern China city, is an exception.
A special group has been set up to investigate the cause of the tragedy.
Daxian Sankeng Colliery, which is operated by Nanlou Township Industry Group of Yuxian County, Yangquan City, is a legal coal production business capable of producing 150,000 tons of coal a year.

The accident comes less than two weeks after 166 people were killed in a coal mine in neighboring Shaanxi province in the country's worst mining disaster in 44 years.
A gas explosion in October killed 148 miners in central China's Henan province.
"It is a problem of mine management and a lack of safety awareness," An Yuanjie, propaganda director for the State Administration of Coal Mine Safety, told AFP.
"Over-production exceeding mine capacity, especially in the small mines where there is already a lack of safety facilities, as well as inadequate investment in safety infrastructure, these are all the reasons that are causing these coal mine disasters.
"As the national administration of work safety we need to strengthen our efforts to supervise these mines," she said.
Experts blame most accidents in China's mines not just on poor safety but the failure to enforce regulations.
The government said it closed down 60,000 small mines in the last decade because they were considered unsafe and inefficient, but soaring demand has led to many being reopened.
As well as safety concerns, China's miners have to deal with health issues.
According to recent state media reports, about 600,000 miners suffer from pneumoconiosis, a disease of the lungs caused by inhalation of dust. The figure is increasing by some 70,000 miners every year, Xinhua news agency said.
China depends on coal for 70 percent of its energy and has significantly increased production in the past year to meet the demands of rapid industrialization.
More than 7,000 workers are killed each year in China's coal mines, considered the world's most dangerous.

An, at the mine safety bureau, said it was likely that small mines in the Yangquan region would be shut down for safety inspections following the latest tragedy, but it was too early to say how many would be closed or for how long.
"After major accidents occur, new measueres will be taken," An said.
Today's Top News
Top China News

Coal mine explosion kills 33 in north China




Market recognition benefits China, EU




Foreign trade tops US$1 trillion




Polluting steel plants moving out of Beijing




Government aims to fatten farmers' wallets




Al Qaeda to attempt major marine attack