Japan extends historic military deployment to Iraq
(Agencies)
Updated: 2004-12-10 10:01
Japan extended its military presence in Iraq for another year despite public unease over the deployment of troops to a war zone for the first time since World War II.
Prime Minister Junichiro Koizumi, a close ally of US President George W. Bush, broke with the growing number of countries that have pulled troops from Iraq where an insurgency shows little sign of abating.
"It is Japan's responsibility to help Iraqis rebuild their nation," Koizumi told a news conference.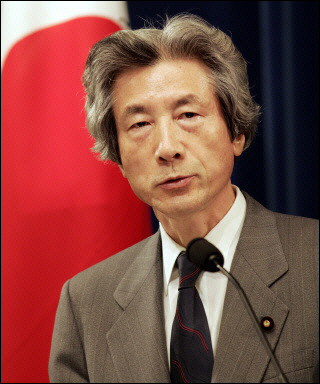 Japanese Prime Minister Junichiro Koizumi speaks at his official residence in Tokyo. Japan extended a troop deployment to Iraq for another year despite public unease about the mission. [AFP]

The United States thanked Tokyo after the decision, saying the soldiers were making an important contribution to reconstruction in Iraq. "The United States warmly welcomes Japan's decision," State Department spokesman Adam Ereli said.

"We would expect that these personnel will continue to make important contributions to reconstruction and humanitarian assistance for Iraq, as they have been doing for these past months," he added.

Japan had sent peacekeepers to Cambodia and East Timor, but its 550 troops in the southern Iraqi city of Samawa are the first it has deployed since 1945 to a country where there is active fighting.

They are barred by Japan's US-imposed pacifist constitution from firing their weapons except in self-defence.

The Iraq mission is officially meant for reconstruction, but is also seen as a signal that Japan wants a larger role in world affairs after nearly 60 decades of diplomacy conducted mainly with money.

Koizumi said the deployment was "put in motion out of the basics of Japan's foreign policy -- the US-Japan alliance and international cooperation."

"I strongly believe that Japan's current humanitarian assistance" in Iraq "can fulfill Japan's national interests," Koizumi said.

But a poll last month by the Nihon Keizai business daily said 61 percent of Japanese opposed extending the mission due mostly to fear for troops' safety.

Opposition leaders wanted the troops to return after the one-year deployment ends on December 14, calling Koizumi's claim that the troops were in a peaceful part of Iraq a farce.

"There exists no 'non-combat zone' in Iraq now as claimed by the government," said Yoshito Sengoku, policy board chairman of the main opposition Democratic Party of Japan.

Sengoku said Koizumi should pull troops out of Iraq, in part to safeguard Japan's relations with the Middle East.

Koizumi acknowledged the security concerns and said the troops, known as the Self-Defense Forces, would leave if Samawa is ever judged to be too dangerous.

"We have determined that the situation there will remain as that of a non-combat area. Inevitably, the situation is unpredictable as there is nothing in this world that is 100 percent certain," he said.

"If the area has become no longer a non-combat area, the Self-Defense troops will withdraw. We will act flexibly in accordance with the situation."

The Japanese troops have not suffered any casualties in Iraq although the base has been hit by shells.

Five Japanese have died in Iraq since the fall of Saddam Hussein -- two diplomats, two journalists and a backpacker who in October was abducted and beheaded by al-Qaeda militants demanding a troop pullout.

Security concerns have contributed to decisions by other members of the US-led coalition to withdraw or reduce troops in the coming months, such as Italy, Hungary, Latvia, Poland and Ukraine.

For Japan, the most crucial departure will be that of 1,300 Dutch troops by mid-March. The Netherlands has been in charge of the security of the Japanese troops.

Japan has reportedly asked British troops for protection once the Dutch leave since the Japanese troops are barred from using force themselves.

Koizumi's government has been studying an overhaul of the pacifist constitution, with reports that the country was ready to break other half-century taboos such as selling arms abroad.




Today's Top News
Top World News

Market recognition benefits China-EU partnership




Foreign trade tops US$1 trillion




Polluting steel plants moving out of Beijing




Government aims to fatten farmers' wallets




Industrial output slows down mildly




Oil firm chief in Singapore free on bail