Bush, Rumsfeld try to soothe angry US troops
(Agencies)
Updated: 2004-12-10 09:02
US President Bush said on Thursday U.S. troop concerns about inadequate equipment for Iraq combat are being addressed and he did not blame soldiers for raising the issue with Defense Secretary Donald Rumsfeld.
A day after he was bombarded with criticism from U.S. soldiers based in Kuwait, Rumsfeld promised more would be done to protect forces. He also said steps were being taken to deal with explosive devices, a leading cause of death in Iraq, where more than 1,000 American soldiers have been killed in action.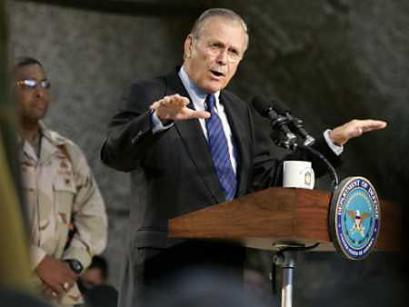 U.S. Secretary of Defense Donald Rumsfeld addresses U.S. military personnel in Kuwait before their scheduled departure for Iraqi combat-zones, December 8, 2004. An American soldier complained to Rumsfeld that troops were being forced to dig up scrap metal to protect their vehicles in Iraq because of a shortage of armored transport. [Reuters]

Since the U.S. invasion of Iraq last year, critics of the Bush administration have accused it of failing to send adequate forces and armor to stabilize the country, allowing the current insurgency to develop.

The latest complaints put the administration further on the defensive. Bush had rejected charges from Democratic challenger Sen. John Kerry in the campaign for last month's election that military forces in Iraq did not have sufficient protection.

"The concerns expressed are being addressed, and that is, we expect our troops to have the best possible equipment. And if I were a soldier overseas, wanting to defend my country, I'd want to ask the secretary of defense the same question," Bush said.

He told reporters in an Oval Office event that he has been telling military families that "we're doing everything we possibly can to protect your loved ones in a mission which is vital and important."

California Rep. Nancy Pelosi, the Democratic leader in the House of Representatives, led a chorus of complaints from her party that Rumsfeld should resign.

She said the Iraq war "began 21 months ago and Secretary Rumsfeld has still not done what is necessary, which is his highest duty, to protect our troops to the greatest degree possible. No CEO in America would retain a manager with so clear a record of failure and neither should President Bush."

White House budget director Joshua Bolten said the administration will ask Congress early next year for additional funding for military operations in Iraq and Afghanistan. Congressional sources said the package could top $70 billion.

"We prefer to do it as late as possible so that we know what our needs are going to be," Bolten said. But he added that he did not expect the Defense Department's "funding streams to be constrained at all at any time between now and the release of the budget" in early February.

Meeting with troops in Kuwait on Wednesday, Rumsfeld heard several complaints, including one from Spc. Thomas Wilson that U.S. forces were forced to dig up scrap metal to protect their vehicles in Iraq because of a shortage of armored ones.

An embedded reporter from the Chattanooga Times Free Press said he had sought out two soldiers beforehand to raise the questions.

"I was told yesterday that only soldiers could ask questions so I brought two of them along with me as my escorts," Lee Pitts said in a memo to the newspaper which was published on the Poynter media Web site.

"Before hand we worked on questions to ask Rumsfeld about the appalling lack of armor their vehicles going into combat have. ... I went and found the Sgt. in charge of the microphone for the question and answer session and made sure he knew to get my guys out of the crowd."

"CONSTRUCTIVE EXCHANGE"

Rumsfeld said on Thursday Wilson would be contacted.

"I don't know what the facts are but somebody's certainly going to sit down with him and find out what he knows that they may not know, and make sure he knows what they know that he may not know, and that's a good thing. I think it's a very constructive exchange," he told reporters traveling with him in India, another stop on a regional tour.

As the military adjusts to changing tactics of the insurgency, it requires different types of equipment and approaches, Rumsfeld said. "It doesn't happen instantaneously, but it has been happening pretty rapidly," he said.

The criticism came just days after the White House announced Rumsfeld would stay on in Bush's second-term Cabinet and the White House closed ranks behind him.

In an apparent effort to damp down the political fallout the U.S. general in charge of coalition ground forces in Iraq vowed to make sure all American military vehicles - including trucks - driven into Iraq in the future would contain at least minimal armor plating.

"And so we're continuing to work feverishly to ensure that they make our requirement that nobody goes north without it," Army Lt. Gen. Steven Whitcomb told Pentagon reporters in a hastily arranged teleconference from Kuwait, where U.S. troops have been gathering before entering Iraq.

Whitcomb told reporters progress had been made since August of last year to upgrade armor on "Humvee" jeeps, although the military was still about 2,000 short of 8,100 "up-armored" heavily-protected Humvees requested by commanders in Iraq.




Today's Top News
Top World News

Market recognition benefits China-EU partnership




Foreign trade tops US$1 trillion




Polluting steel plants moving out




Government aims to fatten farmers' wallets




Industrial output slows down mildly




Oil firm chief in Singapore free on bail