Market recognition benefits China, EU
By Hu Qihua (China Daily)
Updated: 2004-12-09 00:42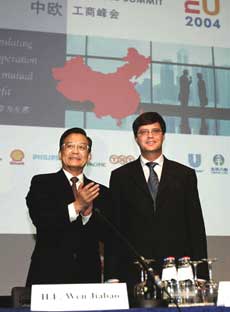 Chinese Premier Wen Jiabao (L) and Dutch Prime Minister Jan-Peter Balkenende (R) attend the China-EU industrial and commercial summit in The Hague, Holland, on December9, 2004. [Xinhua]

The China-EU comprehensive strategic partnership will logically require that China's full market economy status be recognized at an early date and restrictions on exports of high-tech products to China be liberalized, visiting Premier Wen Jiabao said yesterday.

He made the remarks in an address to the China-EU Business Summit where more than 500 influential political and business leaders from China and Europe gathered to discuss key business topics.

"It can only serve China-EU trade and economic exchanges and bring benefit to co-operation between our businesses communities," Wen said.

The Chinese premier voiced hopes that China and the EU will grasp opportunities to push forward bilateral ties, saying they should look upon their relationship from a long-term, strategic perspective.

Closer China-EU relations are conducive to the world, he said.

Wen said China and the EU are important forces for world peace and stability and both are committed to multilateralism and actively promoting democracy and the rule of law in international relations.

China, as the largest developing country in the world, and the EU, the largest group of developed countries in the world, should work to promote trade and economic co-operation on the basis of equality to the mutual benefit of both. That will significantly magnify development of economic globalization, Wen said.

"The China-EU comprehensive strategic partnership is an open and constructive one. It is not an alliance, nor is it directed against any third party," Wen said, adding such a relationship not only serves the interest of each, but also contributes to peace, stability and global development.

Unfounded fear

Wen told the participants that there is no need to fear that the development of the "Chinese giant," since it will pose no threat to other countries.

"That fear is unfounded," he said.

The sheer size of the challenges confronting China, a developing country with a population of one-plus billion people, trying to modernize and achieve prosperity, is not too difficult to imagine, he said.

"It will take the hard work of generation after generation of the Chinese to make it a reality. It is no easy job for us to run our own affairs well," Wen said.

"Given this, we will not pose any possible threat to anyone."

China, he added, will continue to honour its WTO commitments by further liberalizing trade in services, vigorously strengthening the protection of intellectual property rights and creating a fair, stable and transparent environment of law.

Wen said like many other countries, China is also facing some resources and environment problems.

"But unlike some major resource-consuming countries, China is both a major consumer and a major producer of resources," he said.

To address these problems, China has developed a policy of relying mainly on domestic resources, working for both resource development and conservation.

China is following a new road of industrialization and building a resource-conserving society through scientific and technological progress while vigorously promoting international co-operation in the energy, resources and environment sectors, Wen said.

"China does not pursue its development at the expense of other's interests. Instead, we rely primarily on our own efforts, taking advantage of our vast domestic market, abundant labour, huge pool of private savings and the enthusiasm of the people unleashed by reform."

Limits on lending

Wen said restrictions on lending in industries are an important means to ease transport bottlenecks and prevent inflation.

As China saw its slowest growth of industrial production in 18 months in November, Wen, who was attending the Seventh China-EU Summit, told reporters that over investment in those highly energy-consuming industries is an unstable element in China's economic development, adding it is necessary to strengthen the management of demand for power for a rational consumption of energy.

"We are fully confident in maintaining sustained growth next year and in the longer term beyond," Wen said yesterday when he met European business representatives.

Wen, who arrived here Tuesday evening (local time), attended the Seventh China-EU Summit and paid an official visit to the Netherlands, who holds the rotating EU presidency. A series of agreements in various fields were signed between China and the EU, which is widely regarded as a new driving force for the two to further their "comprehensive strategic partnership."