Polluting steel plants moving out of Beijing
By Li Jing (China Daily)
Updated: 2004-12-09 00:42
Beijing Shougang Group, China's fourth largest steelmaker by output, will move all its polluting steel plants out of the capital city by 2012, according to its latest restructuring plan.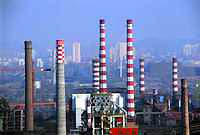 Shougang Group is located in Beijing's west suburbs.

The plan, which has been presented to the State Council, China's cabinet, for approval, highlights the difficulties of the complicated relocation that involves the resettlement of some 120,000 employees.

The eye-catching plan puts a small and unknown island in neighbouring Hebei Province under the spotlight as the steel giant considers building a new base there with an expected annual production capacity of 15 million tons.

The proposed new base may shake China's steel industry given that Shanghai-based Baoshan Group, China's largest steelmaker and one of the world's top 500 multinationals, produces 21 million tons of steel annually.

The current base of Shougang in Beijing's western suburbs, which has long been blamed as the capital's worst polluter with chimneys belching out thick clouds of smoke, is expected to become the headquarters of Shougang.

Sources with the group said Shougang is planning to develop non-steelmaking sectors such as real estate and mechanical and electrical industries at the vacated places.

A number of real estate giants from Hong Kong and foreign countries are talking with Shougang for co-operation, said the sources.

As to a 85-year-old company whose profit and tax account for 3.3 per cent of the city's annual revenue, the relocation estimated to cost some 40 billion yuan (US$4.8 billion), may be easier said than done.

But some moves have already been made, even though government approval is still needed.

Shougang has signed an agreement with the Tangshan Iron and Steel Group, China's sixth largest steelmaker, to jointly invest 48.6 billion yuan (US$5.9 billion) in a steel mill at Caofeidian, Shougang's new base.

The tiny island of Caofeidian, two kilometres in length and one kilometre in width, is located 80 kilometres south of Tangshan, a coastal city of Hebei Province, North China.

It is a natural harbour that can berth cargo ships with a loading capacity of more than 200,000 tons, which may relieve raw material transport bottlenecks and reduce costs.

Chen Maopeng, an official with the Hebei Provincial Development and Reform Commission, was quoted by the Economic Observer as saying that the first phase of the new base is expected to produce 8 million tons of steel annually, but the project has not been approved yet.

Besides Caofeidian, Shougang's reach has touched many other places in Hebei Province.

The construction of a steel-smelting plant in Qian'an, with an annual production of 2 million tons, was finished in October.

And in Qinhuangdao, Shougang has taken part in the building of a plate-making company that can now pump out 400,000 tons per year but could be expanded to 1.2 million tons in the near future.

The relocation of Shougang, which may go a long way towards solving Beijing's chronic air pollution problem, is also evidence of an unprecedented reshuffle in China's apparently booming steel sector.

A phalanx of Chinese steel makers, including big names Baoshan Iron and Steel Co, Wuhan Iron and Steel Co and Anshan Iron and Steel Co, are in merger talks with smaller players.

"The relocation is a big opportunity for Shougang," Zhu Jimin, president of Shougang was quoted by the 21st Century Economic Report as saying.

Zhu said Shougang would speed up consolidation to become a major steel base of North China.




Today's Top News
Top China News

Market recognition benefits China-EU partnership




Foreign trade tops US$1 trillion




Polluting steel plants moving out of Beijing




Government aims to fatten farmers' wallets




Industrial output slows down mildly




Oil firm chief in Singapore free on bail